OO Youth Ambassador Allie Boyer in the News
Saving the apes
Local teenager's decade-long effort to help the endangered orangutan take off
By Ernesto Rivera
This article was published on 07.30.15 on NewsReview.com. Check it out.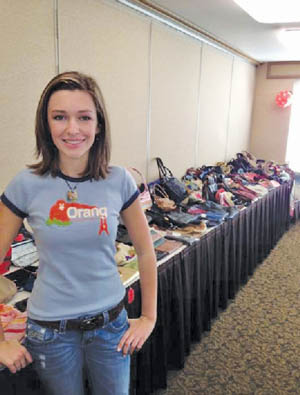 One day during recess, when Allison Boyer was in the second grade, she read a book called Koko's Kitten, about a gorilla born in captivity at the San Francisco Zoo and her feline companion. Allison immediately fell in love with apes, especially orangutans. But, in researching her new favorite animal, she learned that they're endangered. She soon set out to ease their plight by educating anyone who would listen about the threats to their survival—particularly the production of palm oil, which has wiped out huge swaths of orangutan habitat in Southeast Asia. She even adopted an orangutan in Borneo and got Marigold Elementary School to do the same.
Now the 17-year-old senior at Pleasant Valley High School is concentrating on a bigger project, launched five years ago, called Purses for Primates. The nonprofit has recently gained momentum, winning state and national entrepreneurship competitions.
"In elementary school, my primary focus was just raising awareness, but as I grew in my knowledge of this topic and realized how big the palm oil problem was, I knew I had to do something more substantial to fix the problem, like raise funds," Allison said.
She and her mom started noticing the rise of second-hand stores filled with fashion accessories, and Allison thought to herself, "It'd be great if this went to a really great cause." So she started asking for donations of purses.
This effort morphed into the nonprofit organization Purses for Primates, which collects gently used purses, scarves and jewelry, cleans them up and then sells them at "purse parties" at private homes and businesses. They've hosted events at Birkenstock, Chico Women's Club, Oxford Suites and the Sacramento Zoo. One hundred percent of the profit goes to Orangutan Outreach, an organization that works to protect orangutans in their native habitat and care for orphaned orangutans.
Donations come from all over the country, but Allison has had the most success from family, friends and donation bins at Advanced Body Dynamics in Chico, with Build.com and Chico Theater Company soon getting their own bins.
With five years under its belt, the organization has raised more than $10,000 through its purse parties, which is used for medicine, food, equipment, and the care and rehabilitation of orphaned orangutans.
Purses for Primates has had measurable impacts in its conversations efforts, not just because of the cash that's been raised, which can fund about 10 orangutans released into the wild, but because of the local community impact.
"At every purse party we strive to talk to our customers about why orangutans are endangered, why we should care and how we can help them," Allison said. "This is an educational platform for us to be able to talk to people about why we do what we do."
But Allison doesn't do it alone. She's enlisted the help of her family and friends. Natalie Katsikas, also a 17-year-old senior at Pleasant Valley, has known Allison since second grade and when Purses for Primates started, Natalie was immediately on board. She's helped with inventory management and leading purse parties.
"I get to do this with my best friend, which is amazing, but it feels really good to help out," Natalie said. "I've learned a lot from Allie. She's really educated me on what's going on around the world. Purses for Primates has opened my eyes on how to help others."
Jacob Pawek, a 17-year-old senior at Gridley High School, joined the effort about four months ago and began handling social media, Web and marketing. He said it was the contagious passion he saw in Allison that sparked his interest. He has big plans, too, including an e-commerce site that will help expand their reach.
"I thought it was really cool that Allie was doing this on her own," he said. "I got involved because I saw a good opportunity to help a good cause as well as introduce myself into the business world and figure out how things work."
Earlier this summer, Purses for Primates caught the eye of Curtis DeBerg, a Chico State professor and CEO of SAGE (Students for the Advancement of Global Entrepreneurship). He asked them to participate in their statewide competition, held here in Chico, for young entrepreneurs to present their business plans.
Purses for Primates won the competition, then won first place in social enterprise on the national stage in Berkeley. The next step will be the SAGE World Cup, a global competition against teen groups in 20 other countries in Seoul, South Korea, Aug. 7-10.
"I'm so excited to see the connections we'll make in Korea," Allison said. "It went from this small-town organization where we would have purse parties every now and then to competing internationally. I feel that it is finally getting some footing."
Purses for Primates' isn't stopping there. Its efforts recently have spread to secondary locations at the Seneca Park Zoo in Rochester, New York, and in Boring, Ore.
"It's basically a garage sale—that's as much effort as it takes," she said of starting up a new branch. "Anyone can do it."
The recent whirlwind of activity has felt a bit surreal.
"I'm still kind of in shock," Allison said. "It's grown very fast in a matter of months. It's given me a huge kick to get things expanded even further with our website and contacting more zoos to get them more involved."
"It's great to see how quickly it can grow," Jacob added. "It's heartwarming how many people are willing to help, because it's a great cause."