OUTROP: May Project Update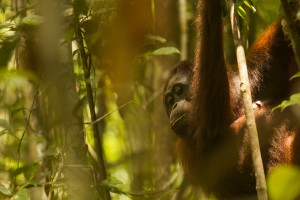 Why we give a dam: blocking the former illegal logging canals to rehabilitate the forest and save orangutan habitat
A legacy of the past illegal logging that took place in Sabangau is the network of narrow canals that riddle the swamp. These canals were used by the illegal loggers to float felled timber out of the flooded forest and some are up to 12km long.
Thanks to our partner Patrol Team, the forest is now free of illegal logging, but these canals have left a continued legacy by draining precious water from the forest. This dries the swamp, leaving the peat vulnerable to degradation and fire. Degraded peat can subside, resulting in forest collapse if left unchecked, and dried peat is a major fire-risk, particularly during extended dry seasons in El Niño years, which forecasters give an over 50% chance of occurring in 2014.
Damming these canals is therefore essential for the effective long-term protection of the Sabangau forest. This is a critical project that all our supporters contribute to. Closing the canals is the highest priority conservation action to protect the important wild orangutan population of Sabangau.
The construction and maintenance of dams is carried out by the local Community Patrol Team. The team is made up of residents from the neighbouring village of Kereng Bangkirai, and is supported by CIMTROP and OuTrop. With additional help from other local community members, the Patrol Team have now built over 500 dams in the forest during the past five years.
We are now embarking on a third phase of dam-building with our most ambitious plan yet. We have just started to close the longest and widest of these canals, the Bahkan canal which extends right to the top of the peat dome. With backing from the local community, this canal is now closed to access and a series of over 50 dams will be built here. These dams, built from natural materials, will retain water, thus keeping the peat wet and retain litterfall, thus allowing the canal to silt up naturally.
Below are some images from the recent construction of the first dams on this canal, and we will keep you updated as the project proceeds.
20,000 hours of orangutan research
We're celebrating a huge milestone at the moment: OuTrop's Sabangau research team have now collected over 20,000 hours of behaviour data on the rare and endangered orangutan!
It has taken nearly eleven years and the combined efforts of nearly a hundred local and international researchers to collect this huge amount of data.
In 2003, OuTrop's Orangutan Behaviour Project was formally started by Dr Helen Morrogh-Bernard, Director of Orangutan Research.
And new research projects have been launched on the clouded leopard, red langur monkey and the endangered Southern Bornean gibbon, on which over 5000 hours of data have also been collected. In 2013, for the first ever time, camera trapping in the forest allowed scientists to estimate the population density of clouded leopards.
As part of this massive research effort, the team has unearthed new findings into the wildlife that lives in peat-swamp forests.
Dr Morrogh-Bernard said, "This is a historic milestone. Over the years our data collection has allowed us to gain some unique insights, including recording the first recorded instance of orangutans rubbing leaves on their fur as a way of self-medicating. These leaves are thought to be a form of anti-inflammatory medication".
Our years of orangutan research have also provided important information on orangutan activity patterns, feeding ecology and energetics, health and parasites, ranging and dispersal, social and cultural behaviors, and life history. This wealth of information is helping us understand both how orangutans survive in the forest and how human activities impact their populations.
Twentino Fritsman, a researcher with OuTrop and CIMTROP who has just collected the 20,000th hour of orangutan follow data, says "It has been a privilege to spend so much time following these special animals. Over ten years I've been lucky enough to watch some orangutans go from infancy to full adulthood. But most exciting is making sure we have the knowledge to help save them".
Orangutan Outreach is a proud sponsor of OUTROP's ongoing activities. If you'd like to help, please let us know. You can also make an earmarked contribution for OUTROP via Paypal!
Orangutans in Borneo Need Your Help!
Donate crypto or with a Card