Orangutan Veterinary Aid (OVAID)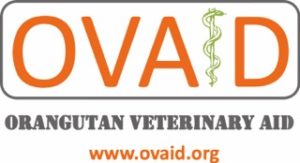 Orangutan Outreach is excited to be teaming up with OVAID, a UK-based charity dedicated to improving orangutan welfare through provision of essential veterinary medicines, equipment and practical expertise to orangutan rescue groups in Indonesia and Malaysia. Activities focussing on veterinary mentoring and support enables OVAID to bridge the critical skills gap and is achieved by the veterinary surgeon volunteering alongside their local counterparts. Sharing knowledge of orangutan disease, treatment regimes, hygiene and medical protocols together with advice on rescue centre designs enables OVAID to provide a broad spectrum of help. OVAID also provides valuable insights into issues threatening the endangered orangutan, their rainforest habitat and increasing human / orangutan conflict.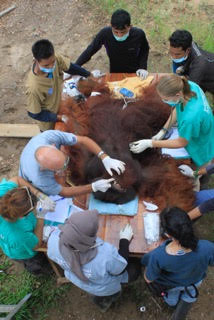 OVAID was established in 2014 by British husband and wife team Nigel Hicks and Sara Fell Hicks (orangutan veterinary surgeon and nurse) after experiencing first hand the gaps in orangutan welfare during 6 years working in Malaysia and Indonesia. From 2009 to 2013 the couple were working at the Sepilok Orangutan Rehabilitation Centre in Sabah, Malaysia and, for brief periods, in East Kalimantan, Indonesia with COP. In the last two years the charity have concentrated their efforts in Indonesia where the plight of the orangutan is more severe and many more rescue groups are in desperate need of equipment.
Recent successes for the charity in 2015 include supplying anesthetic machines and monitors to three centers and providing several orangutan charities with veterinary equipment and medicines. In edition OVAID supplied medicines and equipment and provided a volunteer vet and lay nurse at International Animal Rescue's Orangutan Rescue and Rehabilitation Center in Ketapang, West Kalimantan for a period of nine months.
In 2016 OVAID was asked to assist the Sumatran Orangutan Conservation Programme (SOCP) in Medan, Sumatra on a consultancy basis by providing veterinary mentoring for its new Indonesian graduate veterinary surgeon and providing assistance with the refurbishment and redesign of its veterinary clinic. This project will be conducted over a six month period at SOCP's quarantine and orangutan release sites in Northern Sumatra from June 2016 onwards.
OVAID is a firm believer in collaboration and the sharing of knowledge. It encourages capacity building and communication between the various rescue center's veterinary surgeons and works with other charities and NGOs for the good of the orangutan.
Learn more about OVAID on their website.