Press Release: BOS Nyaru Menteng to Release 8 Orangutans
In an effort to meet the target that set by the Indonesian Orangutan Conservation Action Plan 2007-2017, BOS Foundation in Nyaru Menteng will release 8 orangutans, following 15 orangutans that have been released previously.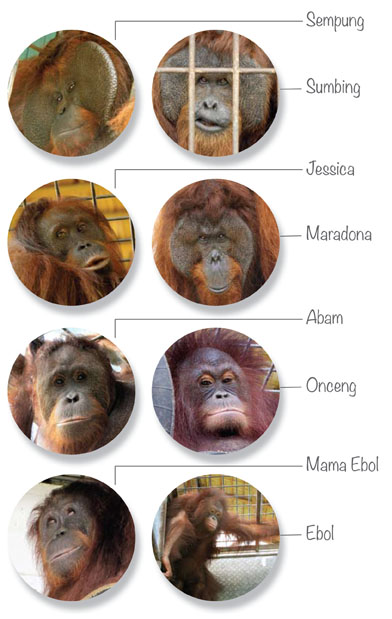 Nyaru Menteng, Central Kalimantan, August 8, 2012. Eight orangutans will depart from the Nyaru Menteng Orangutan Reintroduction Program to Tjilik Riwut Airport where they will be transported by airplane to Puruk Cahu. Similar with the previous releases, the eight orangutans will rest for one night in the transitory enclosures constructed in the area of ​​PT Indo Muro Kencana before departing to Bukit Batikap Protected Forest by helicopter, where they will be released on the same day.
This release will contribute towards meeting the target set by the Indonesian Orangutan Conservation Action Plan 2007-2017, which was proclaimed by the President of the Republic of Indonesia during theClimate Change Conference in Bali in 2007. In addition, this orangutan release also coincides with the finalization of the joint work plan between BOS Foundation and Murung Raya Regency Government, in order to ensure the sustainability of the orangutan conservation program in the Murung Raya Regency.
Regent of Murung Raya, Dr. Willy M. Joseph stated, "It is an effort by the Murung Raya Regency to support orangutan conservation and the plans that have been set by the government within the Indonesian Orangutan Conservation Action Plan 2007-2017, which states that all orangutans in rehabilitation centers should be returned to their habitat by 2015."
According to the Head of Conservation and Natural Resources Authority of Central Kalimantan (BKSDA), Ir. Kholid Indarto, "The number of orangutans cared for at the reintroduction center in Central Kalimantan is still substantial. The role of the private sector, especially oil palm and mining companies, is highly expected. Oil palm and mining companies should play an active role to share responsibility for the fate of the orangutans who were displaced from forested areas due to their activities. They also must implement orangutan and wildlife protection measures in their working area. BKSDA and BOS Foundation will work together to help private sectors to protect orangutans in their concession areas through the implementation of Best Management Practice."
Added by the CEO of BOS Foundation, Dr. Jamartin Sihite, "Close cooperation with the central government, local government and private sectors is required if we really need to reach the target of orangutan release by 2015. We have to continue to strengthen these good relations, in order to achieve our goals. "
The BOS Foundation is very grateful for the support given by its stakeholders, including the Ministry of Forestry, Provincial Government of Central Kalimantan, Regency of Murung Raya, Conservation and Natural Resources Authority of Central Kalimantan and the overall community of Murung Raya Regency. We kindly acknowledge the logistics and helicopter support provided by BHP Billiton and PT Indo Muro Kencana. We also acknowledge financial and moral support from other partners and various conservation organizations both companies and individuals from around the world who care about the conservation of orangutans.
Anton Nurcahyo, Nyaru Menteng Program Manager stated, "The implementation of this orangutan release, as with all our releases, will continue to adhere to the standards of theInternational Union for Conservation of Nature (IUCN). All the released orangutans will be monitored for at least one year to ensure their ability to adapt to their new home."
Prof. Dr. Bungaran Saragih, Chairman of BOS Foundation Board of Trustees added, "I feel very happy and sad at the same time; sad because we have to be separated with orangutans that had been under our care for a considerable time, but I am also delighted that they can finally return to their real home. Monitoring activities, which will continue for at least one year, are a vital part of our release program. We must ensure that the orangutans we are reintroducing can survive to form new, viable populations in the wild."
There is still a considerable journey ahead to reach the target of orangutan release by 2015. Approximately 600 orangutans are awaiting release from the Nyaru Menteng Orangutan Reintroduction Program. Good and generous cooperation between various parties is highly needed to achieve the goals that have been set together.
View this Press Release on the BOS Website
Contacts:
Iwan Pribadi
Communications Specialist
Email: email hidden; JavaScript is required
Monterado Friedman (Agung)
Nyaru Menteng Communications Coordinator
Email: email hidden; JavaScript is required