Press Release: Orangutan Jungle School to Make US Premiere in August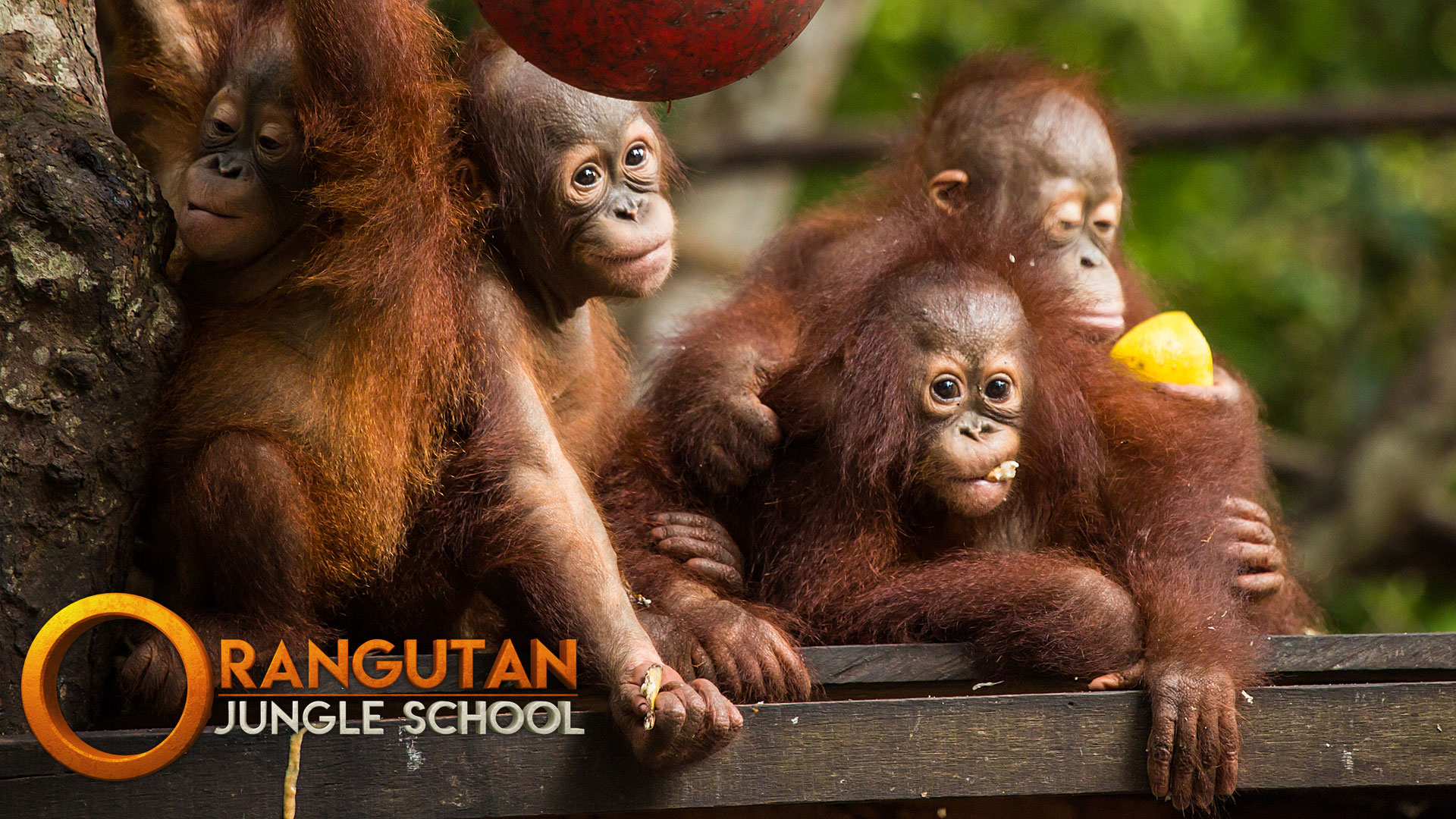 NEW SERIES FOLLOWING THE EDUCATION OF ORPHANED ORANGUTANS AVAILABLE TO STREAM FRIDAY, AUGUST 2 ON SMITHSONIAN CHANNEL PLUS
NEW YORK – June 25, 2019 – Class is now in session as Smithsonian Channel prepares to share the drama, as well as the hijinks, of a group of young endangered orangutans in an emotional new docuseries, ORANGUTAN JUNGLE SCHOOL.
Click here to learn more about the series and meet the stars!
The 10-episode season takes viewers to BOS Nyaru Menteng, a unique forest school for orphaned apes in Indonesia, run by the Borneo Orangutan Survival Foundation. At this singular school, young orangutans who have lost their mothers to poaching and deforestation learn the skills they'll need to survive in the wild as they progress through a series of classes and grade levels – but these lessons take place in the jungle instead of a classroom. Full of rich and distinct characters, hilarious antics, tear-jerking moments and even heart-pounding cliffhangers, the series offers a look at the incredible work being done by human caregivers to provide these intelligent and endangered creatures a chance at life in the wild.
All episodes of ORANGUTAN JUNGLE SCHOOL will be available to stream Friday, August 2 on Smithsonian Channel Plus, with the first two episodes free for those without a subscription.
In the premiere episode, AND SO IT BEGINS, class clown Valentino loves coming up with inventive shortcuts to accomplish his lessons. Darril and Liti are a class couple, but their relationship might be short-lived if Darril doesn't stop controlling his girlfriend. Meanwhile, recent graduate Clara's first baby, Clarita, has been kidnapped by a dominant male. When the staff returns Clarita to her mother, all eyes are on Clara to see if she will accept her newborn back after time apart. MOVIN' ON UP, the second installment, follows Valentino, Madara and Utris as they move up a class in jungle school and make an impression on their new classmates. At nursery school, two-year-old Mema is reluctant to eat termites but discovers a tasty snack inside a rotten log. Recent graduates of Nyaru Menteng are ready for release into the wild – but first the staff has to recapture them from their trial run on a jungle island.
Two Ways to Watch Orangutan Jungle School in the U.S.*
1) All episodes of ORANGUTAN JUNGLE SCHOOL Season 1 will be available to stream Friday, August 2, 2019 on Smithsonian Channel Plus, with the first two episodes free for those without a subscription.
2) Orangutan Jungle School Season 1 will also be shown on the Smithsonian Channel (cable tv) beginning August 18, 2019.
Two episodes will air on Sundays from August 18 to September 15, 2019, with the first episode airing at 8 AM EST and the second at 9 AM EST.
Season 1: Episodes 1 & 2 – August 18
Season 1: Episodes 3 & 4 – August 25
Season 1: Episodes 5 & 6 – September 1
Season 1: Episodes 7 & 8 – September 8
Season 1: Episodes 9 & 10 – September 15
*For viewing information outside the US, please visit the Orangutan Jungle School Facebook Page.
Sneak Peek (opens in a new window)
You can support the orangutans featured in Orangutan Jungle School by adopting them or making a donation to the Borneo Orangutan Survival Foundation (BOSF)!
Adopt one of the Stars!

Meet Cinta!
Playful Cinta loves to engage with her peers and babysitters, and will always find ways to surprise them; like throwing twigs in their direction from behind bushes, or suddenly crouching down in the path of an approaching babysitter. Nothing seems to deter her from her fun antics, and she is too quick for anyone to stop! She also has a special hiding place, away from the babysitters: up high in the trees. Cinta relies on her extraordinary climbing skills to quickly shoot up the trees and brachiate through the canopy, leaving her babysitters rushing to keep up. She certainly keeps the team on their toes!
Cinta's Background Story
Cinta was rescued on February 14, 2015, in Tumbang Jalemu village. She was around 5 months old at the time and weighed 2 kgs. Special guest and former president of Indonesia, Megawati Soekarnoputri, was visiting Nyaru Menteng at the time and gave her the name Cinta, which means 'love' in Indonesian. We certainly have a huge amount of love to give Cinta, the girl who was rescued on Valentines Day.
Adopt Cinta
---

Meet Jumbo!
Jumbo is full of energy and loves nothing more than to play. Cinta, who arrived at the same time as Jumbo, absolutely adores him and will often approach him for a cuddle or play. He grudgingly puts up with this attention – although we all think he secretly enjoys it! Besides learning to climb trees, Jumbo is also learning how to build sturdy nests. He also passed on some important skills to other orangutans, including tips on how to forage for natural foods. He was often seen pointing out new foods to his juniors, who would then follow suit. What a great teacher!
Background story
Jumbo was sadly separated from his mother after hunting dogs scared her away in the forest. The trauma of losing his mother at such a young age is still evident, and Jumbo oftens wraps his arms around his body and hugs himself when he is surprised or scared.
Adopt Jumbo
---

Meet Meryl!
Sweet Meryl is a great role model for the juniors in her group: She has been known to take Jelapat and others into the forest to explore and demonstrate how to forage and build nests. Her peers are happy to engage in the process and enthusiastically follow suit. But she didn't want to venture deep into the forest. It was only after she was encouraged by her friends that she bravely started to explore her surroundings.
Background story
Meryl was rescued from captivity in early 2015, when she was just 8 months old. She was cared for by our vet, Meryl Yemima, whom she was later named after. After a period of quarantine and a complete health assessment, Meryl entered Baby School. She is now a member of Forest School Group 1.
Adopt Meryl
---

Meet Jelapat!
Jelapat is an active 3-year-old male orangutan who likes to climb trees and play with his best friend, Talaken, in Forest School Group 1. Whenever Talaken is worried or in danger, Jelapat will come to the rescue and give her a protective hug. She also does the same for him. Jelapat is a playful character who loves to wrestle babysitters to indicate that he wants to play. He always approaches new faces and seeks their attention. As restless as he may be, he is still well liked by his peers!
Background story
Jelapat was being kept as a pet illegally by a local villager in Central Kalimantan. The local resident, who had named him Jelapat, claimed to have found him wandering alone and weak in a gold-mining area. Forest fires had devastated the area around that time, destroying all the trees and blanketing the region in a thick haze: Sadly, his mother undoubtedly perished in the fires or was killed intentionally.
Adopt Jelapat
---

Meet Topan!
Brave little Topan is now a member of our youngest group in the Forest School's Nursery. Initially, she was uncomfortable around humans and other orangutans and avoided socializing. However, she has slowly grown to become a friendly nursery student and a brave little climber, who shows little hesitation when ascending tall trees or dangling from high branches. Topan is comparatively smaller than her peers, yet hugely courageous!
Background story
Topan was rescued on October 13, 2017, and arrived at Nyaru Menteng in a very weak state after being found by local villagers near a river. She was severely dehydrated, malnourished, and dangerously underweight at only 1.5 kg. After spending a few days in our intensive care unit, Topan's condition improved, and she was able to join other babies in the quarantined section of the Baby House. Thanks to the dedication and loving care of our Nyaru Menteng team, Topan is slowly regaining her health and confidence.
Adopt Topan