CAN Borneo (Conservation Action Network)

Orangutan Outreach is extremely proud to partner with Conservation Action Network to
restore orangutan habitat in the buffer zone of Kelay River. Supported by the community, CAN has planted 5000 fruit trees native to the forest in Berau Regency. Awesome! Orangutans need healthy forest! THIS is the work you help support! THANK YOU!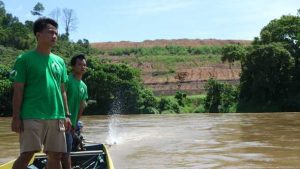 In January 2021, CAN Borneo dispatched disaster relief teams of volunteers and staff to support the joint effort to assist communities devastated by flooding in South Kalimantan.
Armed with basic equipment and disaster relief skills (gained from experiences handling flood and forest fires), the teams set out. The aim was to lend as much support as possible for the people, wildlife and other animals affected by the flood.
In 2022, Conservation Action Network launched Borneo Wildlife Rescue Expedition #1. This is a journey across Borneo from East to West to save wildlife and campaign for the protection of their habitat. This expedition is in collaboration with a local veterinary medical team who will support the handling of animals. There are many volunteers along the way. CAN is committed to giving a second chance for wildlife to return to their habitat.
Words of hope from CAN Borneo
"We believe optimism is a form of courage. We believe that a billion acts of courage can spark a brighter tomorrow. To that end we model courage, we champion courage, we share stories of courageous acts by our supporters and allies, we invite people out of their comfort zones to take courageous action with us, individually in their daily lives, and in community with others who share our commitment to a better world."
"A green and peaceful future is our quest. The heroes of our story are all of us who believe that a better world is not only within reach, but being built today"
Join Orangutan Outreach in supporting CAN Borneo. Please make a donation by clicking the PayPal button or crypto widget below.
The CAN Borneo Team Needs Your Help!