SOCP Press Release: 3 Confiscated Baby Orangutans Arrive Safely at Quarantine Center in North Sumatra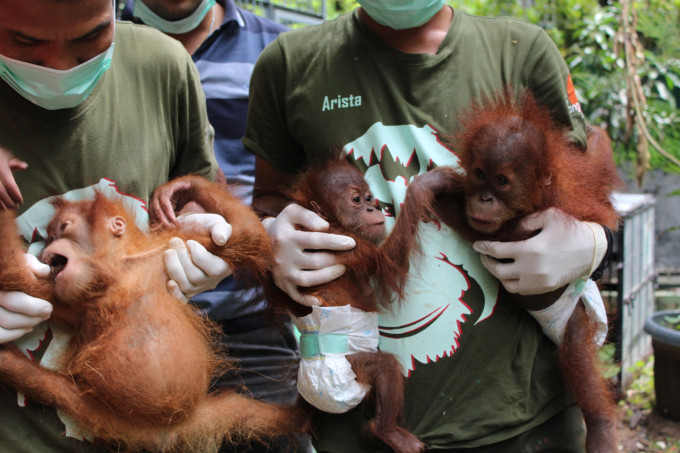 Dara, Raja and Sultan at the SOCP quarantine center. Photo ©SOCP
The Orangutans Need Your Help!
Please make a donation to SOCP today!
Visit the SOCP website.
Monday, 16th November 2015
By Sumatran Orangutan Conservation Programme (SOCP), Medan, Sumatra, Indonesia.
MEDAN, SUMATRA, INDONESIA// Three recently confiscated infant Sumatran orangutans arrived safely today at the Sumatran Orangutan Conservation Programme's specialist orangutan quarantine centre near Medan, North Sumatra, where they will soon be given full health checks and begin the long process of being gradually returned to a life in the wild.
Investigators at the criminal detective unit of the Riau Police arrested three people on Saturday November 7th, 2015, foiling the illegal trade of these critically endangered orangutans in Pekanbaru, Riau Province, Sumatra, Indonesia.
"The first thing they need is to rest and recuperate after their long ordeal." Stated Asril Abdullah, Operations Manager for the Sumatran Orangutan Conservation Programme (SOCP). "They are highly traumatised by all the travelling they've done and all the unfamiliar surroundings and people they've encountered these last two weeks, not to mention the initial trauma of being captured, when their mother was almost certainly killed. Being still such very young infants, that can't have been very long ago either." He stressed.
Riau police spokesman Adj. Sr. Cmr. Guntur Aryo Tejo said on Monday November 9th that police arrested three people from Aceh who were trying to sell three baby orangutans aged between 6 and 9 months old. "We have named the three people as suspects. One of the suspects is a civil servant from Aceh," he said as quoted by news agency Antara.
The suspects are Ali Ahmad, 53; Awaluddin, 38; and Khairi Roza, 20.
Police received information from locals who reported that an illegal trade of orangutans was planned in the Palas area in the city of Pekanbaru, Riau Province.
Guntur said after investigating that police identified the sellers and arrested them on Saturday November 9th, while they were waiting for the buyers to meet them in their vehicle. Two of the suspects tried to flee but were later arrested after their car was involved in a road accident.
Police found three baby orangutans in the car, in white plastic boxes.
"[The orangutans] were in weak condition after a long trip from Aceh," he said.
The suspects told police they had bought two male baby orangutans and one female baby for Rp 5 million each, in Lokoh village in District of Tamiang, in Aceh Province.
"They planned to sell the baby orangutans for Rp 25 million each. We are currently chasing the original seller in Aceh and the person who ordered them in Pekanbaru," he added.
Police handed over the babies to the provincial Center for Natural Resource Conservation (BBKSDA) in Riau, who immediately requested the help of the SOCP to take over their long-term care and eventual return to the wild.
Ir Rinaldo, Section Head of BBKSDA Riau commented " We would like to thank the Riau Police, WWF Riau Program, the SOCP and the North Sumatra Conservation Agency for all their assistance with this case and for delivering the orangutans safely to the SOCP Quarantine Centre in North Sumatra. At the same time, we hope this case is not repeated, and that other illegal wildlife traders, so far undetected, are also identified and prosecuted"
Head of the North Sumatra Conservation Agency (BBKSDA North Sumatra) Mr John Kennedie, expressed his appreciation to the Riau Police for preventing the illegal sale of the orangutans. "This should be a lesson to everyone that illegal trade in protected wildlife species is against the law and can be prosecuted. Furthermore, the apprehension of these traders has resulted in the rescue of these three young Sumatran orangutans, a species at serious risk of extinction. They now have a chance to recover and grow and eventually to be reintroduced to a life in the wild. For this purpose we have placed them in the care of the Sumatran Orangutan Conservation Programme, at their Orangutan Quarantine Centre, where they will receive veterinary care and begin the gradual rehabilitation process, to learn how to survive in the forest once again.
Drh Talitha Khairunisa, Veterinarian with the SOCP noted, "Whilst they seem reasonably okay at first glance they need time to rest and rehydrate after all their travels. We will give them a few days to calm down now, and get used to their new surroundings, and then give each of them a more thorough health check. Once we know they're fit and well we will start to introduce them to some of the other young infants at the centre for companionship."
Dr Ian Singleton, Director of the SOCP added, "We are extremely grateful to the Riau police and the Riau Conservation Agency and applaud all involved for taking such swift and decisive action in this case. Sadly, however, we've seen a marked increase in the numbers of very young infants arriving at the quarantine centre in 2015. This trend is worrying as it shows orangutan mothers are still being killed, and their infants taken for trade or as pets, on a regular and frequent basis. We cannot be sure yet exactly which forests these particular infants originate from, but often the killing and capture of orangutans is greatest in areas where the forests are being cleared, for example for palm oil plantations. It will be very interesting to see if the legal proceedings can identify the precise area they came from, although from what I hear it was definitely in Aceh, probably somewhere within the Leuser Ecosystem protected area." He concluded.
Sumatran orangutans (Pongo abelii) are a distinct and separate species from their relatives in neighbouring Borneo (Pongo pygmaeus). Only around 6,600 Sumatran orangutans survive in the wild today in Aceh and North Sumatra provinces, where their major stronghold is in the Leuser Ecosystem National Strategic Area.
The Sumatran orangutan species is listed as Critically Endangered by the World Conservation Union (IUCN) on their 'Red List of Threatened Species', and as one of the "Top 25 World's Most Endangered Primates." The biggest threat to their survival is the destruction of their rainforest habitat, often for large-scale palm oil plantations, and increasing fragmentation of their habitat by roads and agricultural encroachment.
Statement from Riau Police (translated from Bahasa Indonesia)
Director Criminal Detective Dept., Riau Police, Police Commissioner, Arif Rahman Hakim, SH. "We would like to report that on Saturday 7th November 2015 at 22.30 three people were arrested engaged in criminal activity related to the conservation of natural resources, in contravention of National Law No 5, 1990, article 21 paragraph 2a, which states that everyone is forbidden to catch, injure, kill, store, own, keep, transport or trade a protected species.
The arrested are:
1. Ali Ahmad, 53 yrs, male, civil servant, from Aceh Tamiang
2. Awaluddin, 38 yrs, male, trader, from Aceh Tamiang
3. Khairi Roza, 20 yrs, male, private, from Aceh Tamiang
Police report: LP/505/XI/2015/krimsus/ Riau dated7th November 2015
Location of arrest: Simpang Palas, Jl. Lintas Pekanbaru – Minas, Rumbai Pesisir, Pekanbaru, Riau.
Evidence:
1. One car, Inova, black, registration BK 1156 KB.
2. Three infant orangutans held in plastic boxes.
Chronology:
On Saturday 7th November 2015 at 22.30, after receiving information from the public regarding the sale of infant orangutans from Aceh in Pekanbaru, The Head of Unit 1, Sub-directorate IV, Directorate of Social Crimes of the Riau Police, Captain Bayu Wicaksono, and 6 agents arrested three men intending to sell 3 infant orangutans. One of the perpetrators, Ali Ahmad, was arrested whilst waiting to carry out the transaction. The other two, Awaluddin and Khairi Roza, immediately tried to evade arrest, driving away in vehicle Inova, BK 1156 KB, but after a short chase, resulting in said car being crashed, they were also apprehended by the unit head and agents. Once these two were captured, a quick check of the vehicle found three infant orangutans in plastic boxes at the rear of the car.
As of now, the 3 perpetrators are being detained, and the vehicle BK 1156 KB is confiscated for the purposes of the investigation.
Meanwhile, the three orangutans, after coordination with the Riau Conservation Agency (BBKSDA Riau; the provincial office of the Indonesian Government's Ministry of Environment and Forestry's Directorate of Natural Resource and Ecosystem Conservation, Ditjen KSDAE), have been sent to be cared for at the Orangutan Quarantine Centre, managed by by the Sumatran Orangutan Conservation Programme(SOCP) and BBKSDA North Sumatra, in Batu Mbelin, Sibolangit, Deli Serdang, North Sumatra."
Editors note:
Article 21, paragraph 2a of Indonesian National Law No 5, 1990, on the conservation of natural resources and ecosystems carries a maximum prison sentence of 5 years and fine of up to Rp 100 million.
The 3 orangutans have been provisionally named by Riau Police as Sultan and Raja (the two male infants, both aged just under 1 year) and Dara (the female, aged approximately 4 to 6 months).
Photos of the infants at the SOCP's orangutan quarantine centre attached. Larger versions of these photos are available on request to Dr Ian Singleton, details below.
Contacts
Asril Abdullah, Operations Manager SOCP. Tel: 0813 70233052 Email: email hidden; JavaScript is required
Drh Talitha Khairunisa, SOCP Quarantine Veterinarian. Tel: +62 857 82361019, Email: email hidden; JavaScript is required
Dr Ian Singleton, Director SOCP. Tel: +62 811 650491, Email: email hidden; JavaScript is required
Ir Rinaldo, Section Head, BBKSDA Riau. Tel: +62 811 7510501, Email: email hidden; JavaScript is required
Ir. John Kenedie, Kepala, Balai Besar Konservasi Sumber Daya Alam Sumatera Utara (BBKDSDA-SU). Tel; +62 812 29695533, Email: email hidden; JavaScript is required
Head of Unit 1, Sub-directorate IV, Directorate of Special Crimes, Riau Police, Captain Bayu Wicaksono. Tel : 0812 1785 7777, email : email hidden; JavaScript is required
Photos courtesy of SOCP.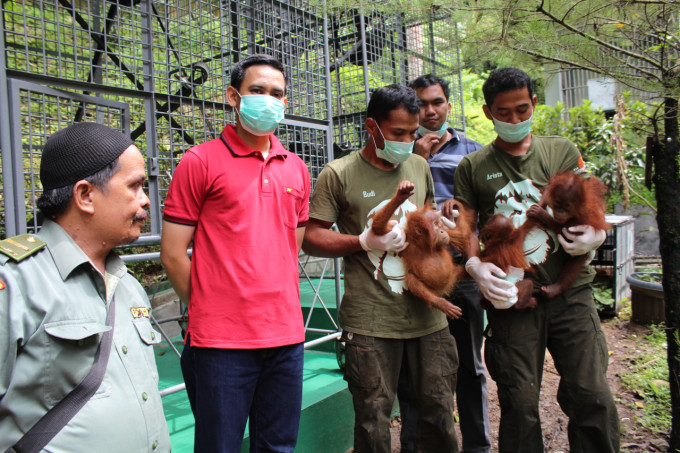 Staff BBKSDA Riau (Somad), Police Captain Bayu Wicaksono and the 3 orangutans (Dara, Raja and Sultan (L-R) with keepers from the SOCP quarantine. Photo ©SOCP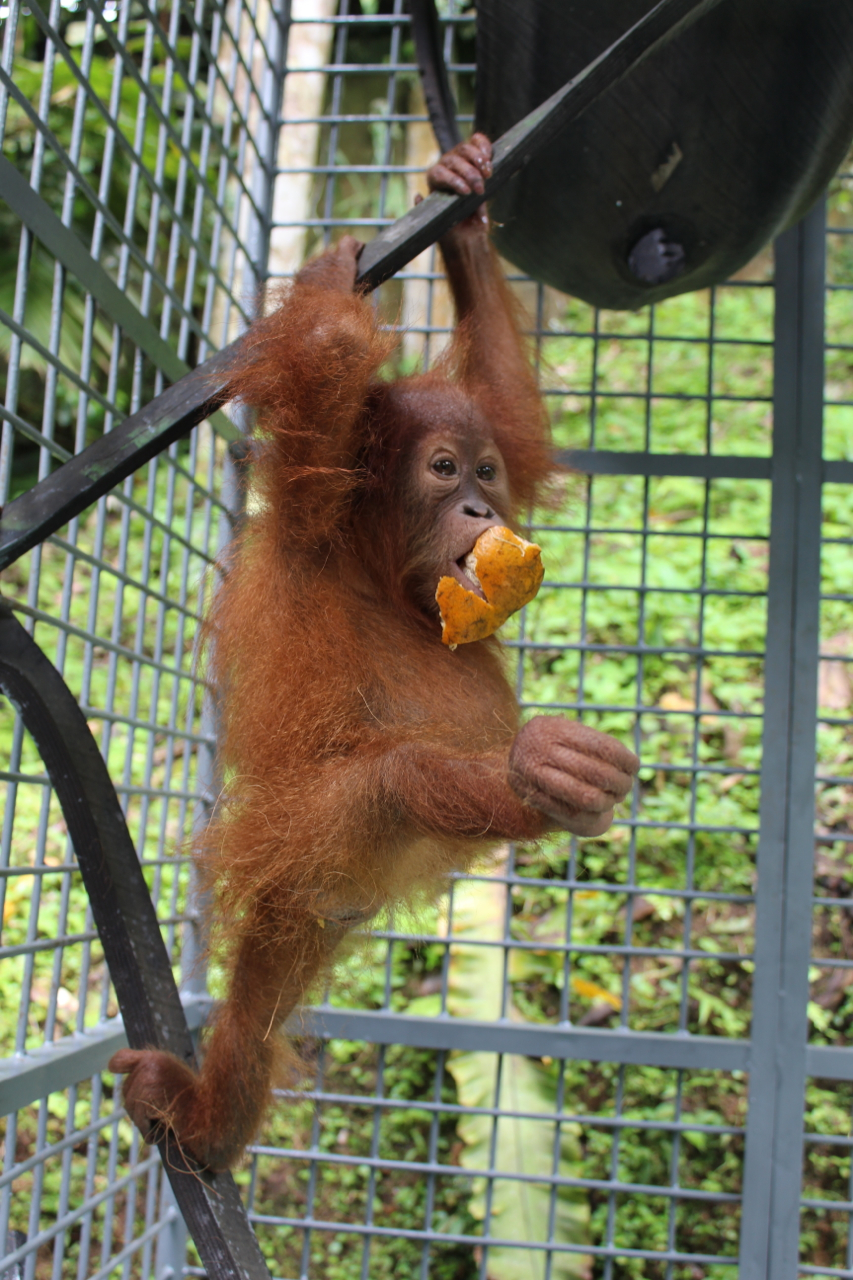 Dara in her new cage accommodation at the SOCP quarantine centre. Photo ©SOCP
The Orangutans Need Your Help!
Please make a donation to SOCP today!
Visit the SOCP website.
THANK YOU SO MUCH FOR YOUR SUPPORT!
{:(|}