SOCP Press Release: Three Infant Sumatran Orangutans Confiscated from Smugglers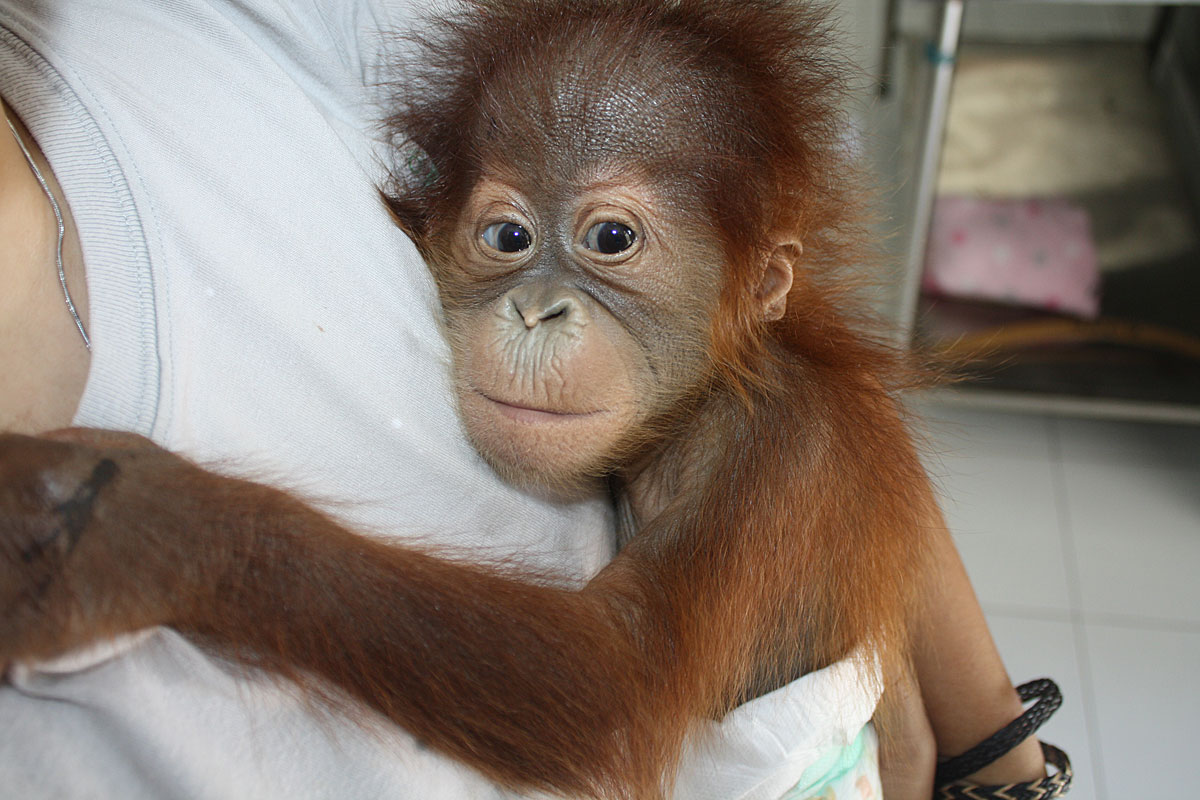 (All photos © 2019 Ariesta Ketaren SOCP/YEL. Click on the thumbnail to see the full image.)

PRESS RELEASE
Three infant orangutans confiscated during smuggling attempt arrive safely at the Sumatran Orangutan Conservation Programme's Orangutan Quarantine and Rehabilitation Centre.
From:
1) Balai Besar Konservasi Sumber Daya Alam (KSDA) Sumatera Utara.
2) Yayasan Ekosistem Lestari – Sumatran Orangutan Conservation Programme (SOCP).
3) PanEco Foundation, SOCP, Indonesia.
Medan, Sumatra, 28th June 2019: Yesterday, Thursday 27 June 2019, 3 new orangutans arrived at the Sumatran Orangutan Conservation Programme's (SOCP) Orangutan Quarantine and Rehabilitation Centre in North Sumatra, Indonesia. The three orangutans were confiscated by Indonesia's customs authorities working with the military during an attempt to smuggle them to Malaysia via the port of Dumai, in Sumatra's Riau province.
Read about the rescue here. (link opens in a new window)
The three orangutans have been named Dupa, a female aged 1.5 years, Duma, also female, aged 1 year, and a younger infant male, Digo, only 2 to 3 months old. Having arrived a little tired and bewildered after the 15 hour drive to the centre, near Medan, from Dumai, the 3 infants must first get used to their new surroundings. Once they have settled, they will be given full medical checks, before they can be introduced to other orangutans at the centre, and begin the long and gradual process of being prepared for eventual release and reintroduction to the wild, when they are deemed ready.
According to SOCP senior veterinarian, Dr Yenny Sarawswati, "When we first met them in Dumai all three of them were clearly quite stressed by their ordeal, and somewhat dehydrated. Dupa and Duma were also very dirty, having been in a crate with waste food and their own feces. Digo was a bit cleaner, having been held in a box with some blankets for comfort. Digo was also not very active, but fortunately would drink infant milk and is doing okay, and Duma is clearly afraid of people, much preferring to cling on to Dupa for security rather than to a human caretaker."
"Now that they've arrived safely at the centre, we'll give them more thorough medical checks, such as chest x-rays to check for Tuberculosis and blood tests to see if they have things like Hepatitis among other ailments that they might have picked up from humans during their time in captivity."
SOCP Operations Manager, Asril, added "We are very lucky these three orangutans appear to be reasonably okay, despite their ordeal. They're all very young, though, and we need to keep a very close eye on them to be sure we haven't missed anything, but all being well they'll make good progress now that they're being cared for at the our quarantine and rehabilitation centre."
SOCP Director, Dr Ian Singleton commented "We'd very much like to thank the customs and military involved in this confiscation in Dumai, and those members of the public that tipped them off that these infants were being smuggled in the first place.
All three of these infants have clearly been captured from the wild sometime during the last 18 months, which almost invariably involves killing their mothers, who will defend their infants to the death. They're also still very young, meaning it will need several years of care and rehabilitation before they will be in a position to be returned to a life in the wild at one of the SOCP's two orangutan reintroduction centers in Sumatra. Assuming all goes well, however, there's no reason why they can't live a long and productive life again as wild orangutans one day, and hopefully produce infants of their own, making an important contribution to the future survival of their species." He added.
According to Dr. Ir. Hotmauli Sianturi, M.Sc, For, Head of North Sumatra's Natural Resource Conservation Agency (BBKSDA-SU): "Orangutans are endemic to Indonesia, and a Critically Endangered species, fully protected under Indonesian law. The killing, capture, keeping or trading of an orangutan can result in prison terms of up to 5 years, and fines of IDR 100.000.000."
Background :
· The Sumatran orangutan (Pongo abelii) is a distinct species from its neighbor in Borneo (Pongo pygmaeus). It is also different from the third, most recently described orangutan species, that was announced to the world only in November 2017, namely the Tapanuli orangutan (Pongo tapanuliensis), living in the Batang Toru Ecosystem of North Sumatra, further south in Sumatra than the Sumatran orangutan species.
· Only around 13,400 Sumatran orangutans and less than 800 Tapanuli orangutans remain in the wild. All three orangutan species are listed as Critically Endangered by the International Union for the Conservation of Nature (IUCN) in their Red List of Threatened Species.
· The Sumatran Orangutan Conservation Programme is a collaborative programme of the Swiss-based PanEco Foundation (www.paneco.ch), its partner NGO in Indonesia Yayasan Ekosistem Lestari (YEL: Sustainable Ecosystem Foundation); and the Indonesian Ministry of Environment and Forestry's Directorate General of Natural Resource and Ecosystems Conservation (Ditjen KSDAE).
· The SOCP is active in all aspects of Sumatran orangutan conservation including :
1. Confiscation, rehabilitation, and reintroduction of captive orangutans to form new viable wild populations.
2. Research, surveys and monitoring of wild orangutan populations.
3. Habitat protection and restoration.
4. Environmental education and awareness raising.
· Since 2001, the SOCP has received over 380 orangutans at its specialist orangutan quarantine centre near Medan, in North Sumatra. Over 180 of these have been released at the SOCP reintroduction centre in Jambi province, and 120 orangutans have now been reintroduced to the forests of Jantho Nature Reserve, in Aceh province, since 2011.
Contact details :
1. Dr. Hotmauli Sianturi, MSc. For, Kepala Balai Besar BBKSDA Sumatera Utara., Email : email hidden; JavaScript is required ; Tel: +62 (0)61 7860606
2. Castri Delfi Saragih, Communication Officer, YEL-SOCP, Email: castri @yel.or.id ; Tel: +62 85359991525
Photos to be credited to "Ariesta Ketaran YEL/SOCP" available here in high resolution.
The Sumatran Orangutans Need Your Help!
THANK YOU SO MUCH FOR YOUR SUPPORT!
{:(|}