KID POWER! Congratulations to the students of Sunrise School Bali for taking positive action for orangutans!
Sunrise School Bali is a holistic school located in Bali, Indonesia. The Year 3 students spent a term learning about endangered animals, which includes the beautiful orangutans that inhabit their home country (on the neighboring islands of Borneo and Sumatra). These 7-8 years old students quickly realized how special orangutans are, and how important orangutans are to maintaining healthy forests. Learning that all three species of orangutans are critically endangered, the students became motivated to do their part to help protect these magnificent apes.
Inspired by the Orangutan Outreach MOM campaign, the students decided to take action! They created a letter writing campaign in which the Year 3 students created posters and wrote letters to Indonesian officials. The Year 2 class made posters as well! Year 3 teacher, Cindee Tabares, contacted Orangutan Outreach to ask for assistance in getting the children's posters seen. While the goal is to reach the powers that be in Indonesia, we know that the more people who see the posters, the better!
The students of Sunrise School Bali are an inspiration! They prove that anyone, anywhere, can take action to help orangutans! What will YOU do to help save and protect the orangutans!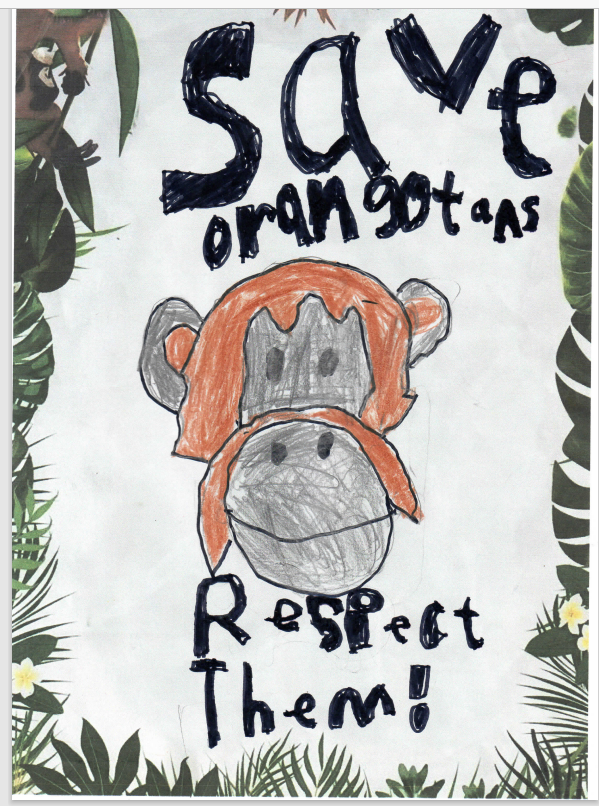 Click on the thumbnail below to see the poster full size.