A High Stakes First Date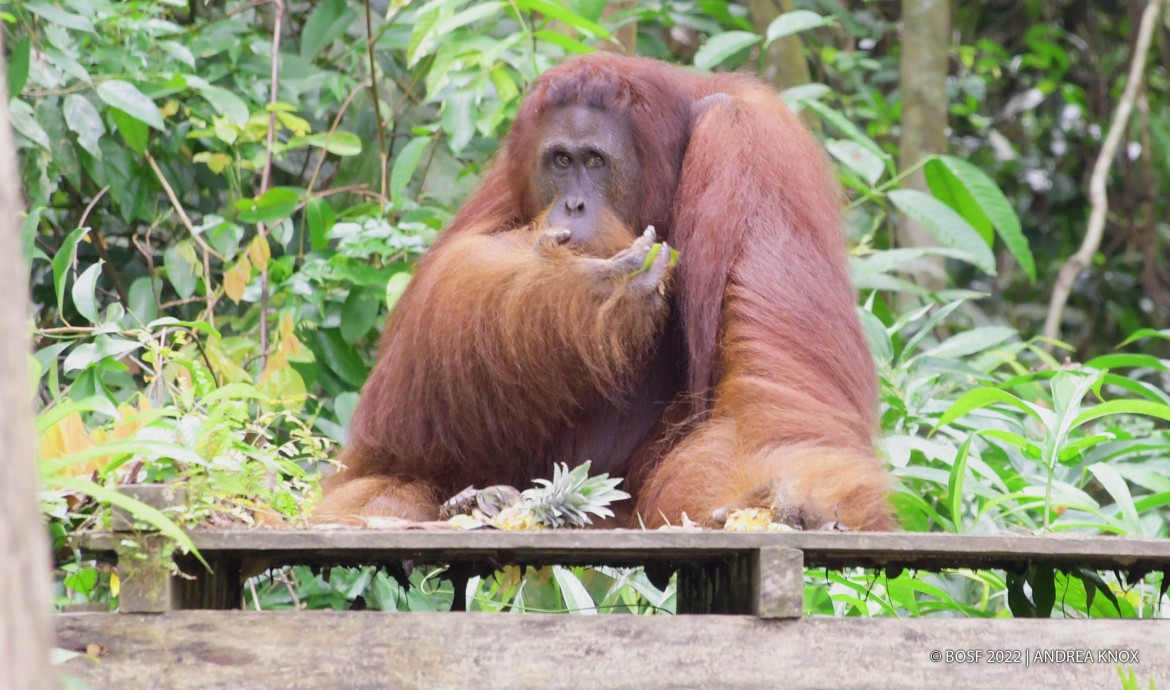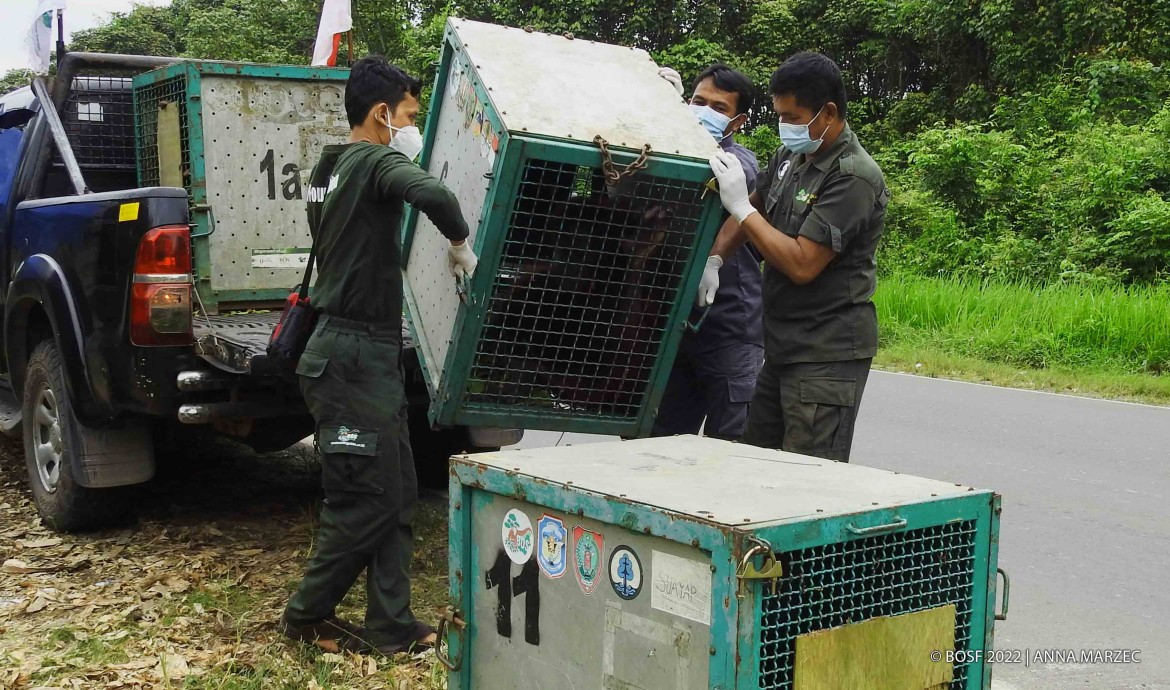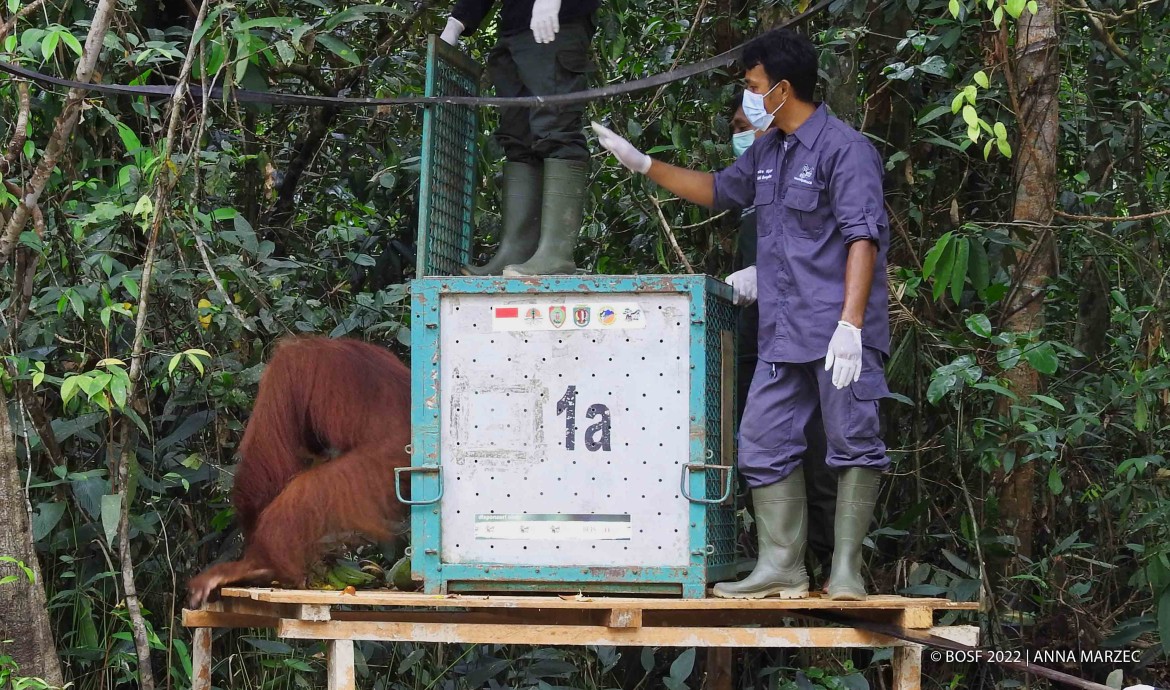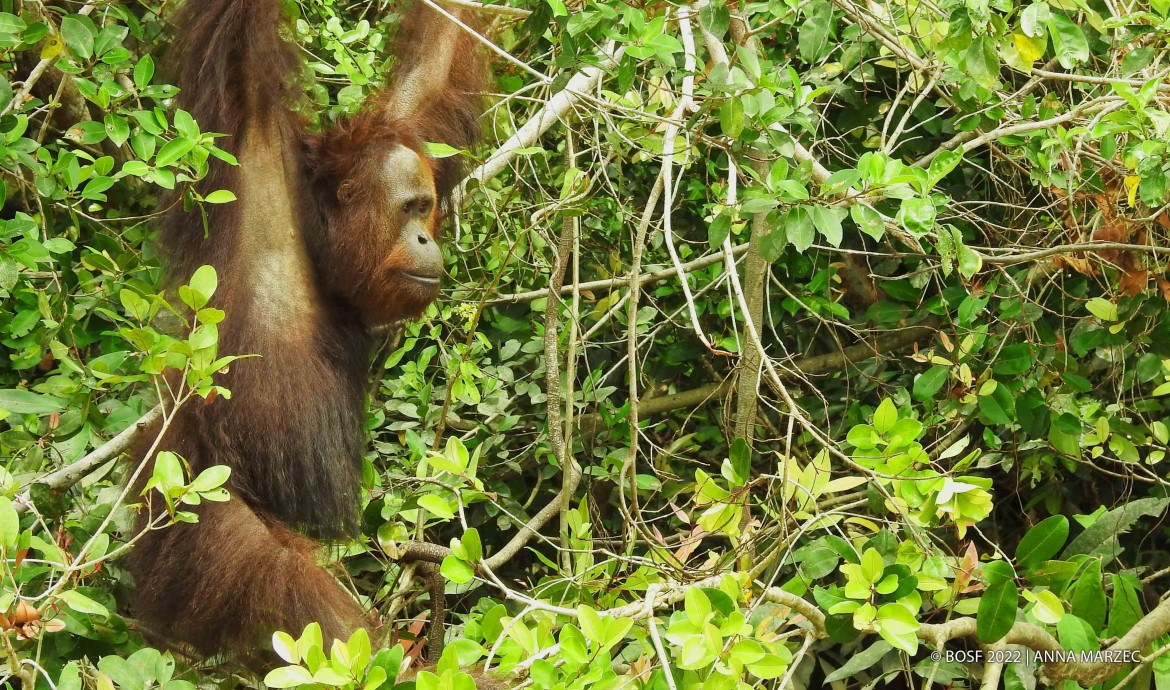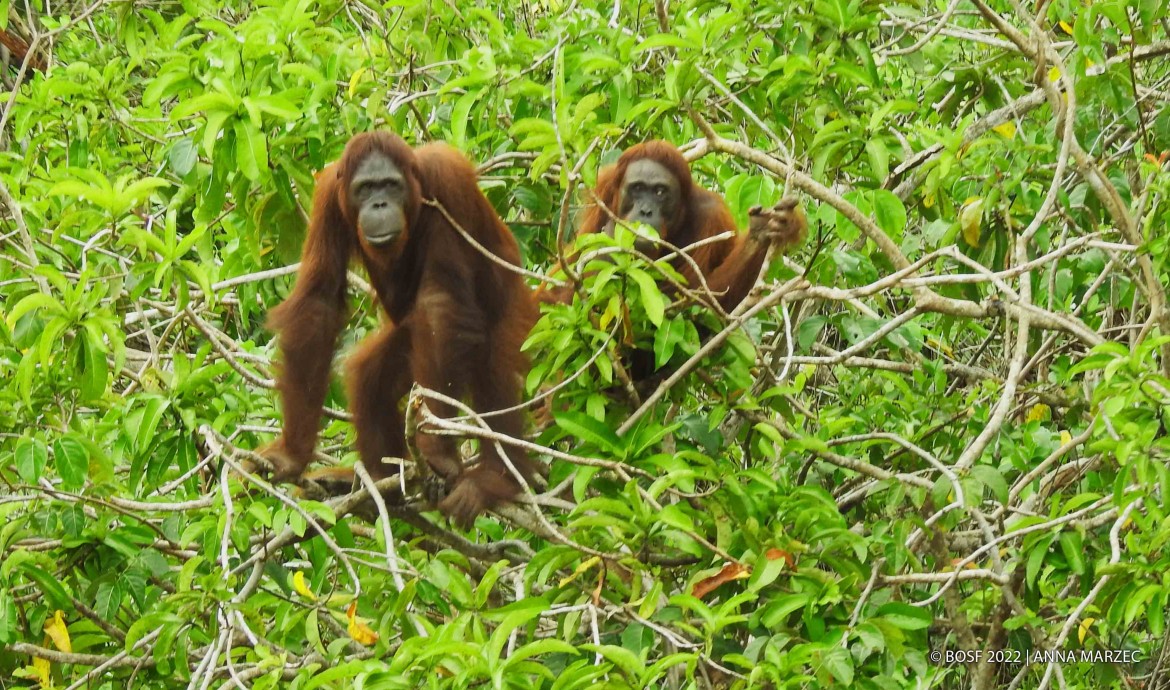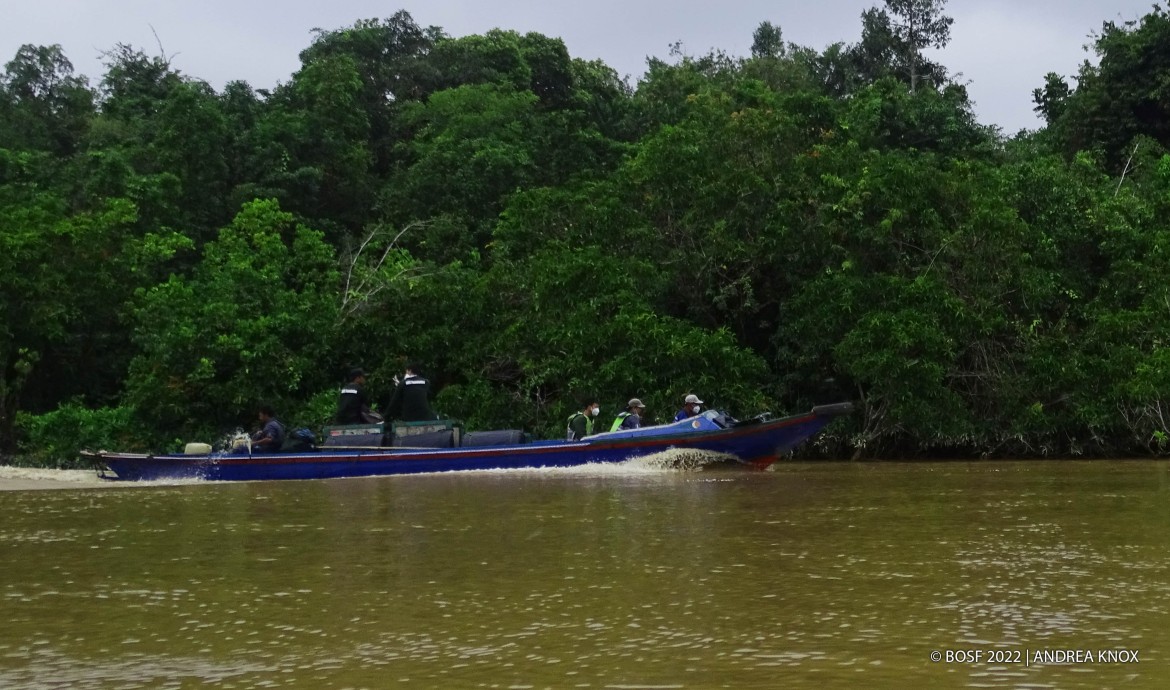 Date Posted December 21, 2022
Text by: Andrea Knox, Advisor at BOSF HQ, Bogor
On Saturday, November 12, a small caravan, carrying some very special cargo departed from the BOS Foundation's Nyaru Menteng Orangutan Rehabilitation Centre in Central Kalimantan.
The teams started the day as the sun rose with a swab of their noses to check for COVID-19. At the same time, Cimon (M), Guldtop (F), and Oneng (F), were being loaded securely into the flatbed of an iconic BOS Foundation pick-up truck. Cimon was no stranger to what was happening, as he had done this journey once before. However, Guldtop and Oneng, peered out of their transport cages to watch every step of the process. These three orangutans were headed for the Salat Island Cluster.
The journey would take just an hour and a half in the car and another hour by boat. The destination was a series of forested islands managed by the BOS Foundation in collaboration with PT. Sawit Sumbermas Sarana, an oil palm company actively working with BOS Foundation to implement sustainable practices in their plantation landscape that protect orangutans and other wildlife. The jointly managed islands provide open, but secure areas for orangutans in sanctuary care to live out their days still supposed by technicians and for orangutans in rehabilitation to prove they have all the skills needed to be released into larger, wild forests.
Read also: ORANGUTAN GO TO "COLLEGE" PRIOR TO RELEASE
Cimon had once called the Salat Islands home, but in 2021 after he lost a fight with another orangutan, his weight dropped to a dangerous level and the BOS Foundation veterinarians made the choice to remove him from the island for treatment. He has now returned to a healthy weight and this is his second chance to prove he can survive on his own. He was brought to a platform on Badak Besar Pre-Release Island, where he was released with ease and no drama.
On the other hand, Oneng and Guldtop were headed for Badak Kecil Sanctuary Island. Oneng has lived under BOS Foundation care since 2008, during which time she has also inhabited Palas Island and Kaja Island, both pre-release islands on the Rungan River. Sadly, she has consistently failed to survive independently and we now hope the easier conditions of Badak Kecil Island are more suitable for Oneng. Her release also proceeded smoothly, with the exception of a cheeky long-tailed macaque stealing her food!
The only release that had the team worried was that of Guldtop. As the boats arrived at the designated platform, we quickly released we were not alone. In the tree was male orangutan, Happy. He must have heard the boat engines and thought there was an extra food delivery that morning. This was not ideal. The move alone can be stressful for an orangutan, we did not want to release Guldtop in the vicinity of another orangutan, increasing the chances for conflict on her very first day. However, with other platforms occupied, we did not have any choice but to proceed.
The team started by trying to coax Happy away by offering some delicious pineapple. He did accept the gracious offering but quickly returned to the platform, pineapple still in hand, to see what the larger delivery would be. He simply would not take 'no' for an answer.
While some team members worked to distract Happy, others swiftly released Guldtop. As soon as she emerged from her cage, she was all Happy could see – he went straight for her. We held our breaths, thinking that perhaps we misjudged the situation, while one team member even let out a "Lari, Guldtop!" ("Run, Guldtop!")
Guldtop immediately went up a tree, but not fast enough and in moments, Happy's hands were on her and that is the moment someone laughed and said, "Oooh, I forgot that Guldtop is a female!" Happy wasn't being aggressive, he wanted to get to know her – intimately!
With the tension gone, Guldtop descended back to the platform to feast upon all the delicious fruit our team had left. Happy descended with her, but instead of grabbing a snack, he kept his arms firmly draped over her shoulders while looking over at us, almost as if to say, "She is my girlfriend and don't you even think about making a move on her!" With Guldtop showing no signs of stress, we left the two, and their budding romance alone, and moved on to the next post.
We were thrilled that the move of these three orangutans had gone so smoothly and departed knowing they would be safely looked after by the capable Salat Island Technician Team. Good luck everyone!
Orangutans in Borneo Need Your Help!
Prefer to donate crypto, stock or with a Credit Card?
Use the widget below.