MOM – Missing Orangutan Mothers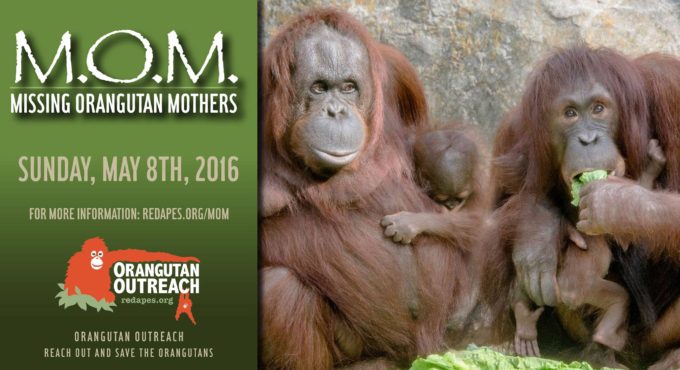 2016 Poster Girls
We have a special treat this year: 2 mothers & babies in 1! We're thrilled to present Bornean orangutans Josie & Baby Gojo and Hadiah & Baby Topi from Tampa's Lowry Park Zoo. Special thanks to Zoo Photographer Dave Parkinson for allowing us to use his photo.
This version is optimized for Facebook (click to download full size banner):

Please feel free to download the banners and add them to your Facebook pages and other social media. They have been optimized specifically to fit Facebook pages! All we ask in return is that you link back to our MOM page: https://redapes.org/mom
If you would like the images in higher resolution, please contact us.
What is the MOM Campaign?
Mother's Day is the perfect day to celebrate and pay tribute to orangutan mothers. The MOM – Missing Orangutan Mothers Campaign is our way of doing precisely that! The MOM Campaign is a positive way to bring attention to the crisis facing these beautiful red apes by encouraging people to help protect them.
Orangutan mothers and babies have an incredibly close relationship. Baby orangutans don't have a support network around to give them the many lessons of finding food, building nests and other survival skills. Their mothers teach them everything about survival in the forest before they set out on their own. Because of the growing demand for palm oil, though, more and more orangutan mothers are being killed every year on the islands of Borneo and Sumatra.
The orangutans' rainforest home is literally being wiped out to make way for oil palm plantations-- leaving hundreds of helpless orangutans with nowhere to go. Some of the lucky ones end up at rescue and rehabilitation centers and are cared for by a trained, professional staff. Orangutan Outreach works with professional organizations such as the Sumatran Orangutan Conservation Programme (SOCP), International Animal Rescue (IAR) and the Borneo Orangutan Survival (BOS) Foundation to care for more than 1,000 orphaned and displaced orangutans until they can be returned to the forest! That's a lot of missing orangutan mothers!
This Mother's Day, we are asking zoos, sanctuaries, animal facilities, groups and individuals all around the world to participate in our MOM Campaign and hold their own events. These events can be as elaborate or as simple as you'd like. It's up to you!
We want this year's MOM Campaign to bring much needed attention to the plight of Bornean orangutans. In the Fall of 2015 catastrophic forest fires left many young orangutans in Borneo orphaned. The area around BOS Nyaru Menteng was hit especially hard by the fires. BOS has already rescued 7 infants... bringing the baby group to 23 orangutans. More babies are expected to arrive and the current Baby House is simply too small and inadequate for our needs. We desperately need to build a bigger Baby House to accommodate all of the babies and provide them with the 24-hour care they need in a hygienic, suitable environment. So we launched a campaign to BUILD A BABY HOUSE. Learn more about the Baby House and support it here.
You can directly support the BOS Nyaru Menteng Baby House by adopting one of its residents: Meryl.
MOM Tattoos
These amazing drawings by our artist-in-residence Alina Bachmann are designed to be tattoos.
They can be temporary or permanent. Contact us if you'd like high resolution files.
Who's Participating This Year?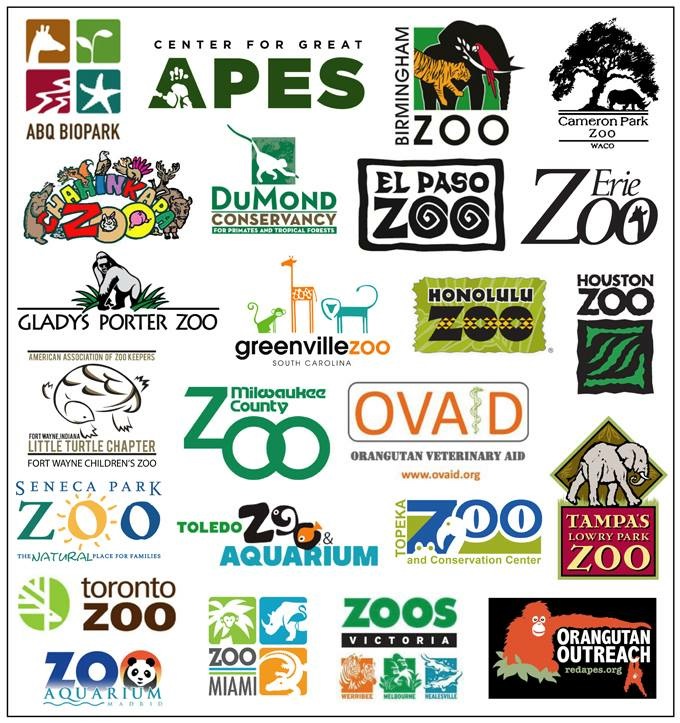 Join the MOM Campaign!
If you'd like to participate in our Mother's Day event, please let us know. We will do our best to help you in every way possible.
We want to stress that this not specifically a fundraising campaign. The goal is to raise awareness that orangutans have been pushed to the brink of extinction in the wild and that if we don't act now to save them, they will be extinct in less than a decade. HOWEVER, if a collection jar is put out or you choose to include a fundraiser in order to make a donation or adopt an orphan orangutan through Orangutan Outreach, we would, of course, be thrilled. (We are a tax exempt 501(c)(3) non-profit organization.) Why not raise funds to adopt an orangutan for your own institution or group? This is a great way to follow the life of an orangutan & stay involved with the tireless work being carried out at the rescue centers!
Guidelines - If you have a MOM event, we ask that you please mention Orangutan Outreach and encourage your visitors to go to our website to learn more about orangutans and what can be done to help them. We also ask that whenever possible you please mention the projects and groups we support, such as IAR Ketapang and BOS Nyaru Menteng and SOCP.
We would love for zoo visitors to feel inspired so that they go home, log onto our website and adopt an orangutan! But there are no obligations or expectations. This is primarily an attempt to raise much needed awareness.
Questions or Comments?
If you have any questions, please contact the MOM Team!
Reach Out
Orangutan Outreach Facebook Page
Orangutan Outreach Facebook Group
Orangutan Outreach Social Media
Orangutan Action Packs (Free Downloadable Materials!)
We have photos, flyers, info sheets, posters, games, quizzes, pictures and adoption leaflets all at your disposal. The pictures alone will tell the whole story! Everything is yours to use as you see fit! All of these full color documents and banners are yours to download and use to help raise awareness of the crisis facing wild orangutans. We will be constantly updating this section, so keep checking back. Check out the ORANGUTAN ACTION PACKS
MOM Campaign Video: Baby Orangutan Bonanza!
View the MOM archive to see previous banners.
Lots more information, display files and event ideas here.
Please note: Orangutan Outreach is not responsible for the content on external websites. For information about exchanging links or to report broken links, please email us.
The 2012 MOM Campaign was dedicated to a very special baby orangutan named Luna. This precious angel 'disappeared' under very suspicious circumstances from her rescue center in 2011.... Luna shall remain in our hearts forever. We will never forget her.  Learn more about the tragic loss of Baby Luna.