BOS Nyaru Menteng: Candidate Profiles for the 35th Orangutan Release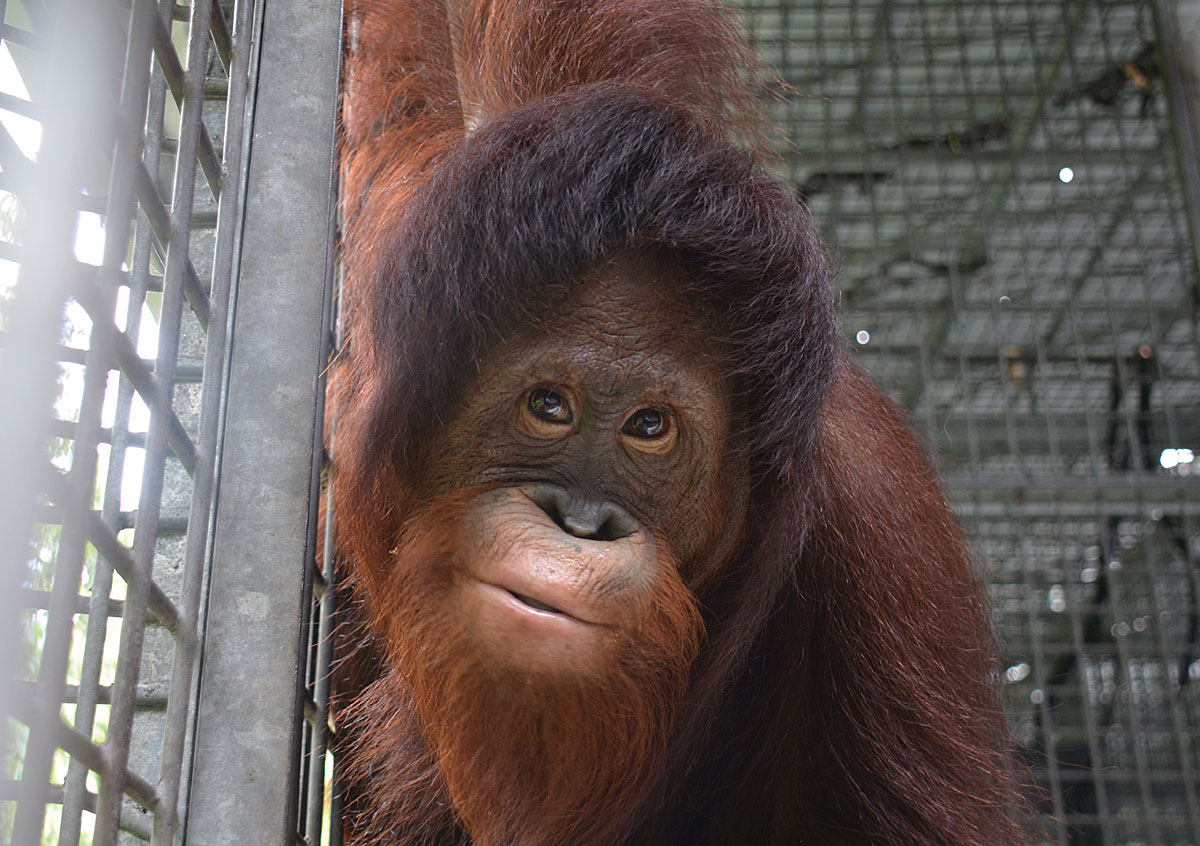 Text by BOSF Communications Team
February 14, 2020 — In the second release of the new year three lucky orangutans from BOS Nyaru Menteng are being released into the forest! Meet the candidates! Learn more about the release program here.
1. Batola

Batola was rescued in the city of Banjarmasin, South Kalimantan, and arrived at Nyaru Menteng on 19 December, 2007. He was five years old at the time and weighed 19 kilograms.
Following quarantine, Batola joined Forest School and progressed exceptionally well through the curriculum. When he started to show aggression toward technicians and babysitters, the decision was made to end his time in Forest School short and send him to Kaja Island. On the pre-release island, Batola preferred to be alone and did not explore far.
Batola is now 17 years old and weighs 42 kilograms. He is only days away from putting his survival skills to the test, when he begins his new life as a wild orangutan in the Bukit Baka Bukit Raya National Park.
2. Paduran

Paduran was rescued on 6 November, 2009, in the village of Sebangau Kuala, Pulang Pisau Regency, Central Kalimantan. She arrived at Nyaru Menteng when she was 18 months old and weighed five kilograms.
After passing quarantine, Paduran joined Forest School and completed all stages. On 5 April, 2017, Paduran advanced to the pre-release stage of rehabilitation on the Salat Island cluster. A gentle individual who spent her time socializing with other orangutans, Paduran became an adept explorer during her time on the island.
Paduran is now 12 years old and weighs 48.9 kilograms. It won't be long before this gorgeous female orangutan will be exploring the forests of the Bukit Baka Bukit Raya National Park.
3. Unyu

Unyu was rescued from a local resident living in the village of Pal 62, Katingan Regency, Central Kalimantan. During his time in captivity, Unyu had allegedly eaten from the same bowl as the resident's pet dog. Unyu arrived at Nyaru Menteng on 22 February, 2017, at the age of three years and weighing 8.9 kilograms. He was still displaying natural behaviours and a firm dislike of humans.
This young, semi-wild orangutan was placed alongside other semi-wild individuals – Alba, Radmala, Kika, and Pujon – in Nyaru Menteng's Socialisation Complex #6. Unyu still appears irritated by human presence, and will consistently kiss-squeak at technicians and veterinarians when he sees them.
Unyu is now six years old and weighs 29 kilograms. He will soon be away from humans and roaming the forests of the Bukit Baka Bukit Raya National Park.
GOOD LUCK EVERYONE!!!
Orangutans in Borneo Need Your Help!