BOS Samboja Lestari: New Year, New Class!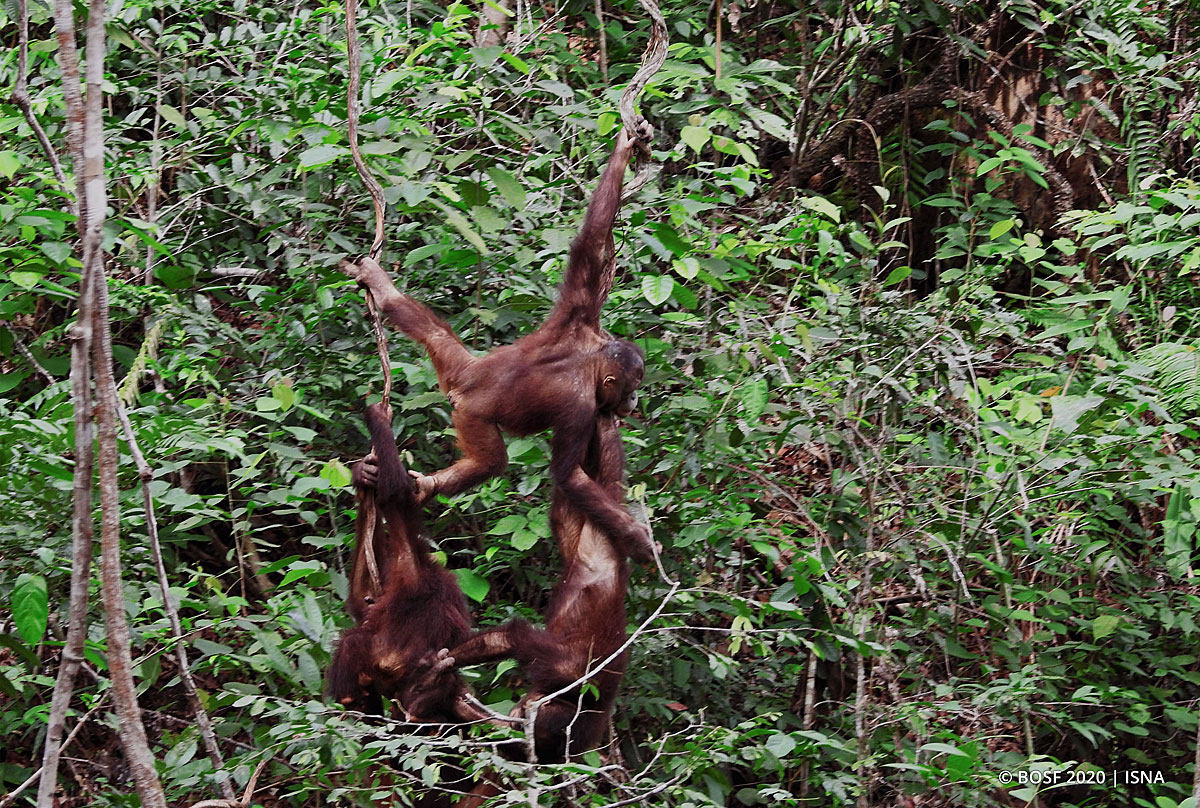 Text by: BOS Foundation Communication Team
January 29, 2020 — The new year is off to a good start for many of our Forest School students, with four of our baby orangutans at the Samboja Lestari Orangutan Rehabilitation Centre being promoted to the next stage of their rehabilitation. After passing a general health check, Catherine, Dennis, Ecky, and Frank became the newest members of Forest School Group 1 on 20 January.
Read also: BOS Nyaru Menteng: New Year, New Class!
The four babies were placed in the same enclosure as their older peers for a week prior to joining the group's designated playground area. This move was intended to first familiarise them with their new class mates.
Read also : Health Checks for Samboja Lestari's Forest School Students
Four More Join Forest School!
Forest School typically begins at around 8 a.m. each morning, after all the young orangutans have had a breakfast of nutritious milk substitute. Catherine, Dennis, Ecky, and Frank seemed a bit cautious on their first day of school. Dennis climbed nervously on the shoulders of a babysitter after exiting his enclosure, with Ecky following suit.
Upon arriving at Forest School, Dennis and Catherine followed their peers in the group and quickly climbed up into the trees.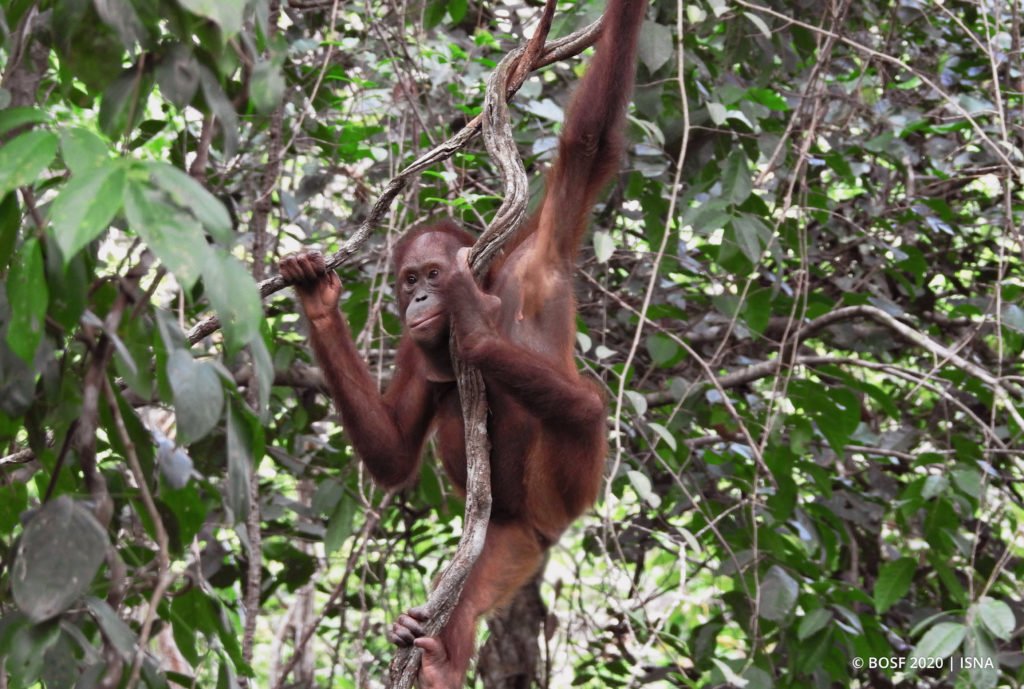 Catherine up in a tree
Ecky, meanwhile, seemed rather terrified and kept clinging to her babysitter. When the babysitter tried to introduce Ecky to other orangutans, she cried and clung on even tighter. However, after several minutes of observing her new surroundings, Ecky soon climbed up a tree and played on her own, moving among the lianas. She even tried her hand at foraging, and taste-tested some castanopsis fruit.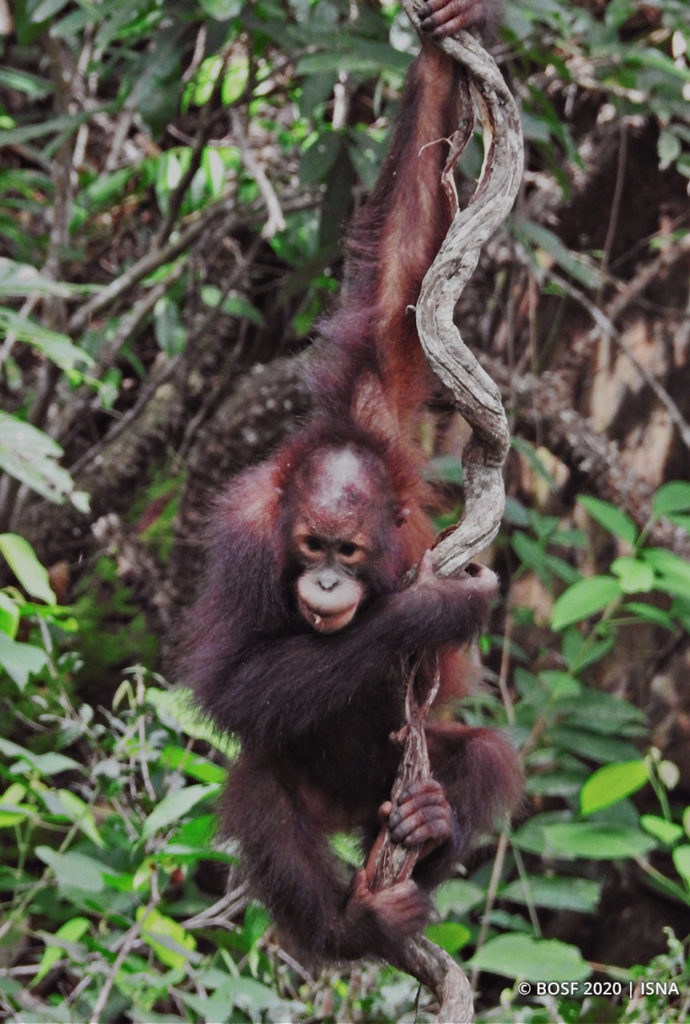 Ecky in a tree
Read also : New Night-time Enclosures for Forest School 2 Orangutans at Samboja Lestari!
Frank was the last to leave the ground, but quickly made friends with Serge. The two played on the forest floor together until a technician started teaching Frank how to climb.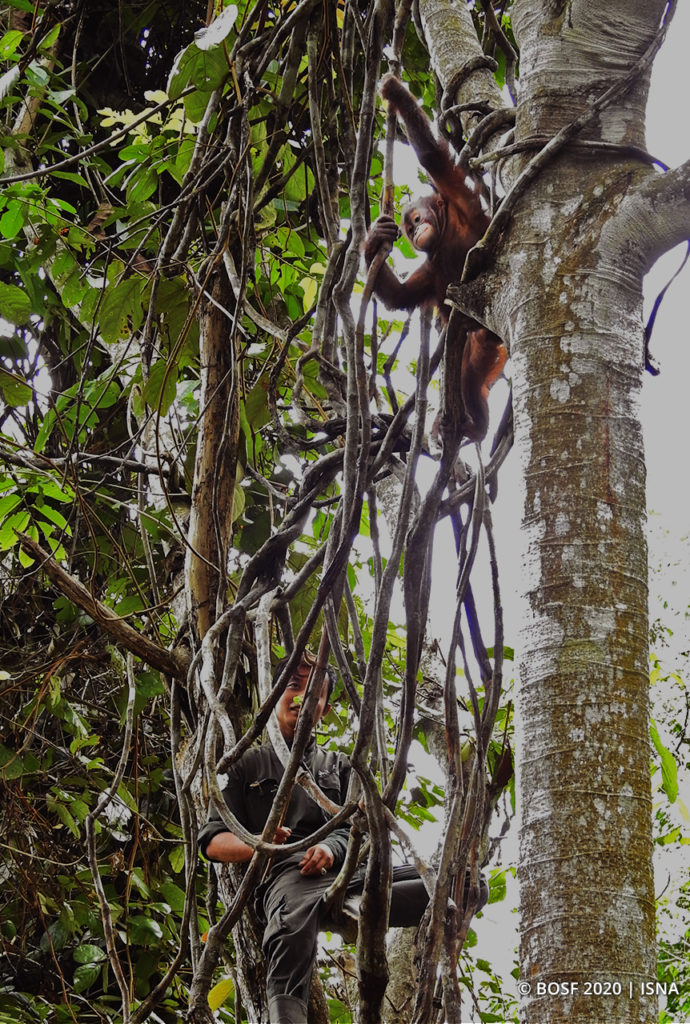 Frank learns to climb
It did not take long for these four baby orangutans to adapt to their new surroundings and join their peers in the trees. We hope the newest members of this group pick up more skills and develop natural behaviours from observing their peers, so that they can one day be released to the wild.
Orangutans in Borneo Need Your Help!