BOSF Orangutan Releases: Cindy Helps Regenerate Wild Population With Third Birth!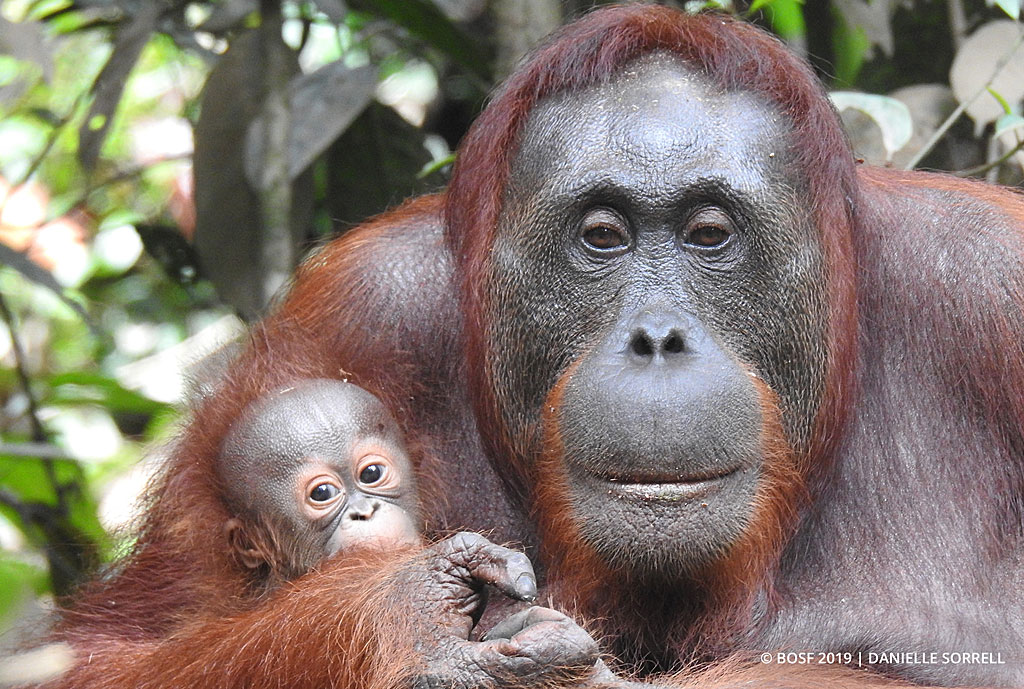 Text by: Danielle Sorrell, PRM Team Coordinator in Totat Jalu Camp, Bukit Batikap Conservation Forest
May 15, 2019 — The ongoing decline in Bornean orangutan numbers is extremely worrying, thus we must strive harder than ever to save this Critically Endangered species. It always gives us hope, however, when we witness our reintroduced orangutans thriving in a natural forest habitat and producing a new generation. It is challenging for the orangutans to survive in their new, wild habitat, and stay safe from the dangers posed by both natural predators and humans. Therefore, to be able to raise two babies in the wild and give birth to a third is an extraordinary achievement – one which Cindy has absolutely nailed!
Cindy was released in Central Kalimantan's Bukit Batikap Protection Forest together with her two offspring – Cilik (a male) and Riwut (female) – on 28 November, 2013. Based on observations, Cilik and Riwut have adapted well to life in Batikap, and Cindy is now raising her third child!
Read also: Growing up in a Hurry!
Following the happy news from several months ago on multiple births in Batikap by released mothers Manisha, Meklies, and Compost, the Post-Release Monitoring (PRM) team from Totat Jalu Camp recently reported that another baby had been born there!
Read also: Bukit Batikap's Baby Bonanza!
The PRM team first caught a glimpse of Cindy and her newborn on 26 January this year, when the third-time mother was found resting on the ground with a tiny baby suckling at her breast. The umbilical cord was still raw and appeared to have recently been torn off, with the petite baby estimated to be only about 2-4 days old.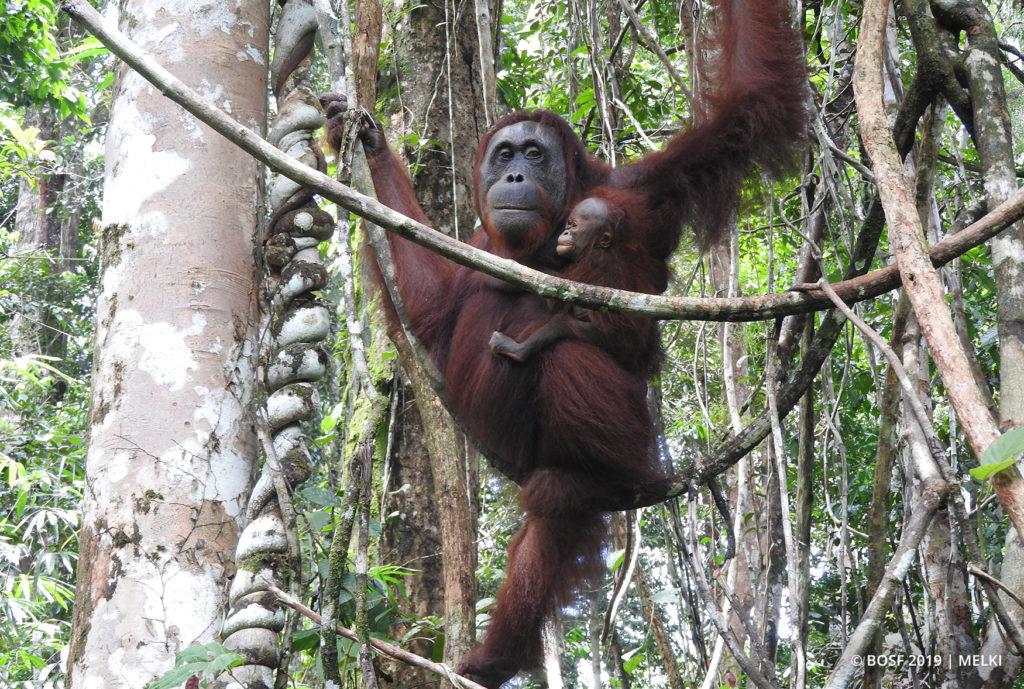 Cindy and her 3rd baby
Having learned that she had just given birth, our team ensured that Cindy became a priority for monitoring and behavioural observations. Team members returned the next day to try and determine the baby's sex, when they spotted Cindy together with her second child, 6-year-old Riwut. Mother-daughter pair Inung and Ina were also nearby, as well as an unfamiliar male, who was suspected to be Gusti.
Read also: Mystery Orangutans Identified!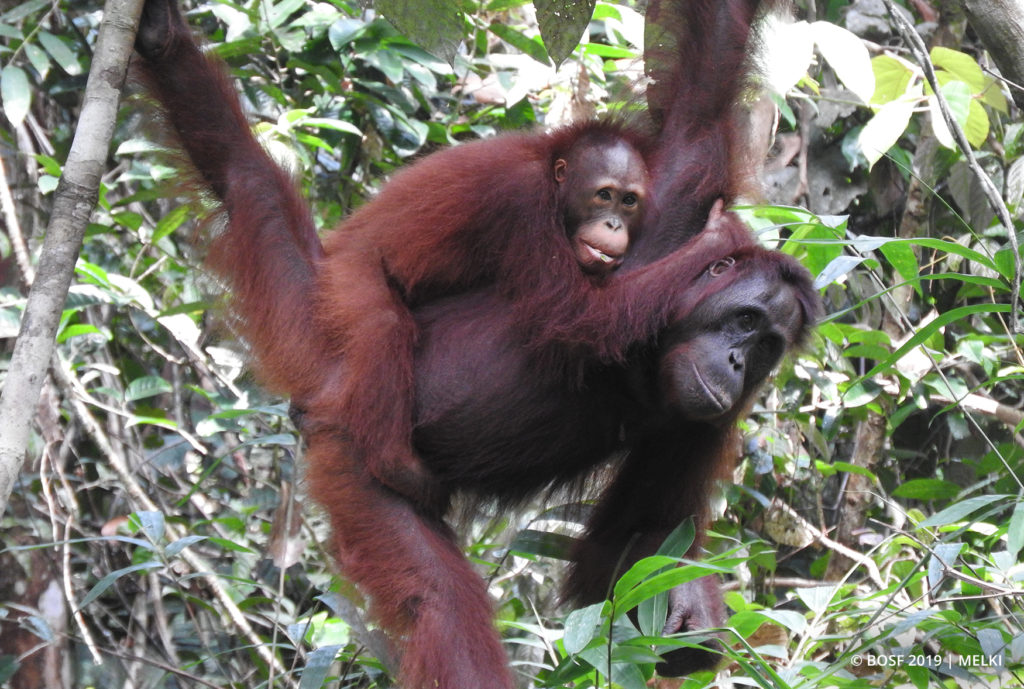 Inung and Ina
Cindy, her newborn baby, Riwut, Inung, and Ina stayed hidden in their nests during observations. The team suspected that these females were spending an extended period in their nests to avoid Gusti, for not long after he moved away, they all began to cautiously leave their nests to forage. Cindy emerged from her nest for a while to eat some fruit, then retreated to a nest that Inung and Ina had previously built. The PRM team waited around in the hope that Cindy would later climb down, so they could get a better look at her and the baby.
Finally, after a long 5-hour wait, mother Cindy stirred from her nest and worked her way down to the forest floor with her baby. Cindy's eyes appeared to be a bit swollen, perhaps from a bee sting; but other than that, she looked perfectly fine. Vet Agus Fachroni – Nyaru Menteng's Veterinary Medical Team Coordinator, who had accompanied the PRM team that day – determined that Cindy's baby was a girl! Our team concluded the day's monitoring happy in the knowledge that all orangutans observed were found to be in excellent condition and thriving in the wild.
Cindy managed to raise Cilik, her first offspring, into an independent teenager; although he was occasionally spotted following other adult females. Meanwhile, her second offspring, Riwut, has grown into a self-reliant individual. Having already successfully raised two babies, we are convinced that Cindy will do a remarkable job of raising her third child. We cannot wait to watch her new baby grow up in the forest!
The Orangutans Need Your Help!
Please make a donation to the Borneo Orangutan Survival Foundation today!
THANK YOU SO MUCH FOR YOUR SUPPORT!
{:(|}