CORE Borneo
Orangutan Outreach is proud to introduce our newest conservation partner: CORE Borneo. During the catastrophic fires of Fall 2015 we were able to help the CORE Borneo team fight fires in Tuanan Forest, home to one of the largest orangutan populations in Borneo. We are now excited to be able to promote their ongoing outreach and education initiatives in the local villages. Visit the CORE Borneo Facebook page. For more information, please visit the CORE Borneo website.
---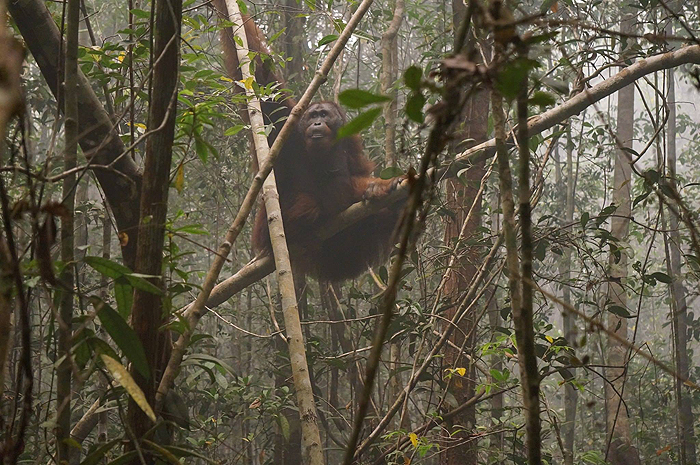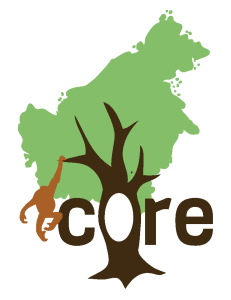 CORE Borneo (Conserving Orangutans through Research and Education in Borneo) was formed in 2015 to support orangutan and tropical peatland forest conservation by conducting scientific research, training future scientists, providing environmental education, and engaging local communities in conservation. CORE activities are based in the region surrounding the Tuanan Orangutan Research Station, which is located on the Kapuas River, Central Kalimantan, Indonesia. Thus, they take a multifaceted approach to orangutan conservation by working together with local schools and communities, government officials, and local NGOs to promote the conservation of orangutans and their habitats. They are pleased to be involved in ape research and conservation, contributing to regional, national, and international Orangutan Action Plans. Their tax-exempt purposes are both educational and scientific.
Our research, conservation, and education activities take place within the Mawas Conservation Area (MCA), a region targeted by the Borneo Orangutan Survival Foundation in 2003 to protect 309,000 hectares of peatland forest habitat in Central Kalimantan in collaboration with local governments and communities. The MCA is recognized as an important source of global carbon storage and is estimated to provide habitat for approximately 3,500 orangutans, one of the largest remaining wild populations. The Tuanan Orangutan Research Station lies within the MCA, and is led by an international team of scientists from Rutgers University (USA) and Universitas Nasional (Indonesia) who are dedicated to deepening our understanding of orangutan behavior and the influence of habitat degradation on their ecology. The Tuanan Research Area has one of the highest densities of orangutans in all of Indonesia and one of the most complete long-term behavioral databases on over 100 individual orangutans since 2003. We have collected over 100,000 hours of focal follow data and monitor this populations year-round. For a summary of all of the scientific publications that have comes from Tuanan research please check their website.
CORE aims to promote not only the long-term conservation of this valuable habitat and the orangutans that reside there, but also to support the training of Indonesian students in biological and conservation sciences. They also engage the local community by providing numerous training, educational, and employment opportunities.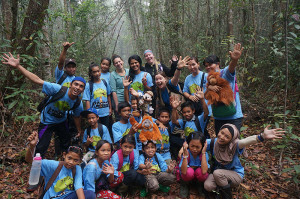 In 2009, the Conservation Strategies and Action Plan for Indonesian Orangutans emphasized the empowerment of local communities via education and involvement as the most effective way of promoting orangutan and forest conservation. We began implementing these recommendations in 2011, when the management partners, led by Dr. Vogel, Dr. Astri Zulfa, and Dr. Utami Atmoko implemented an environmental education program in elementary schools in the Tuanan vicinity. This program was established to build awareness of local conservation issues through education and to provide local communities with the foundation to sustainably manage their natural resources over the long term. Since 2011, we have worked together with local school officials (Education Department of Kapuas) and teachers to introduce this program in four nearby elementary schools. In 2015, we began expanding this program engaging the adults in these communities as conservation partners through environmental education. We plan to expand the elementary school program into two additional schools later this year, and to develop new forest-based learning activities. This program has been embraced by the local community, and the students have benefited from improved education in the classroom, as well as participation in forest field trips, a reforestation project, community cleanups, and special puppet shows about orangutan conservation presented by the children to the entire community. This program has been funded by United States Fish and Wildlife Great Ape Fund, Disney Conservation Fund, Primate Conservation International, The Philadelphia Zoo, The Denver Zoo, and Orangutan Outreach.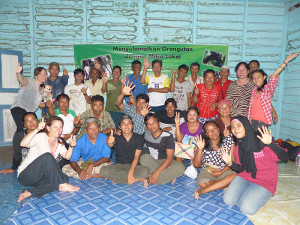 The Tuanan Research Station currently employs approximately 17 members of the local community from different households, most of whom were working as miners and loggers prior to working with us. These local people now have stable full-time work, providing them with alternative livelihoods that don't rely on destructive environmental practices. Furthermore, they are directly engaged in our research and education activities, and thus well informed about local conservation issues.
The Tuanan Orangutan Research Station hopes to contribute to the education of the next generation of researchers and leaders in conservation by providing students with the opportunity to receive training and conduct independent studies as part of an international team of researchers. To date, more than 60 theses for university degrees have been completed based on student projects and additional data collected at Tuanan.
Click on thumbnails to see large images.
---
How will your contribution help the CORE Borneo team?
$12 is a daily wage for one of our fire-fighting team members to fight dry-season peat fires
$15 is a daily wage for an experienced field assistant to monitor orangutan behavior
$25 will fund a team of two community education teachers to engage local school children in our environmental education program along the Kapuas River for one day
$50 pays for one month for a member of our biodiversity team to monitor the camera traps in the study area
$100 will fund two hoses, all attachment parts, and safety equipment to fight the peatland fires during the dry season.
$150 will fund Tuanan's monthly monitoring of orangutan food trees to quantify habitat quality.
$200 will fund one GPS unit used for tracking orangutans, orangutan surveys, biodiversity surveys, and mapping the location of our over 90 water hydrants in the forest
$300 will fund one Indonesian orangutan research team member's monthly salary.
$500 will buy a new motor to pump water from 30m below the peat during the fire season.
$600 will fund the annual salaries of our entire four-member community patrol and fire team
$1000 will fund a new boat and engine used for patrolling along the border of the MCA and for transporting supplies to the Tuanan Research Station (there are no road to Tuanan).
$1800 will fund the salaries of our orangutan behavioral monitoring team for one month
$2500 would support our biodiversity monitoring team with 6 camera traps (we currently have 15 functional in the forest (in collaboration with eMammal database)
Their current priorities are operational costs for the research, fire patrols, and our community projects.