CORE Borneo
January 2016 — Orangutan Outreach is proud to announce our newest conservation partner: CORE Borneo. During the catastrophic fires of Fall 2015 we were able to help the CORE Borneo team fight fires in Tuanan Forest, home to one of the largest orangutan populations in Borneo. We are now excited to be able to promote their ongoing outreach and education initiatives in the local villages. Visit the CORE Borneo Facebook page. Website coming soon.
---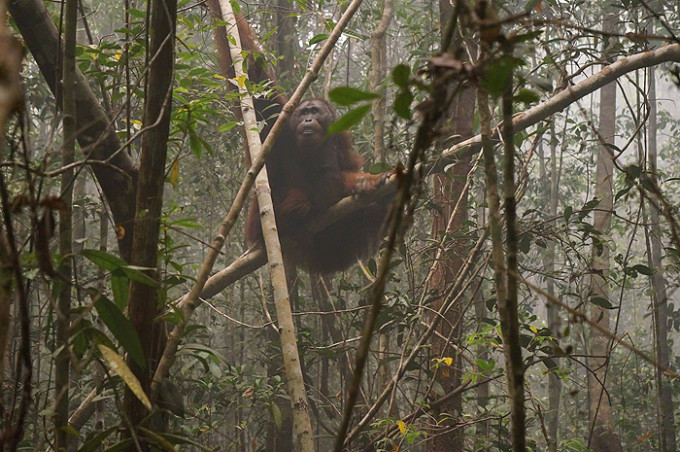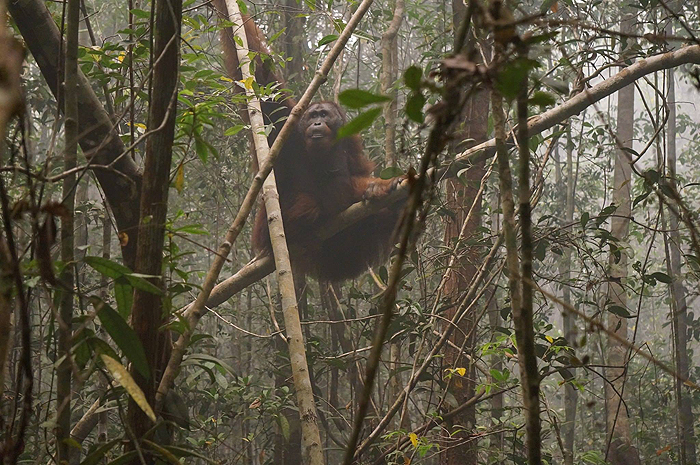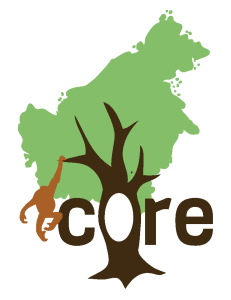 CORE Borneo (Conserving Orangutans through Research and Education in Borneo) works to support orangutan conservation in the Mawas Reserve – managed by the Borneo Orangutan Survival Foundation – in Central Kalimantan, a region established by local NGOs, governments and communities to protect 309,000 ha of peatland forests. This area comprises an important source of global carbon storage and provides habitat for approximately 3,500 orangutans. CORE has developed a comprehensive program that promotes orangutan conservation via:
1. Long-term research on orangutan behavior, health and ecology
2. Capacity building of Indonesian scientists
3. Environmental education and conservation engagement in local communities
By educating, employing and empowering local people, it is CORE's goal that they will support environmental practices and public policy that ensure sustainable management of the natural resources that impact their livelihoods. CORE's Co-Directors and Founders, Dr. Erin Vogel and Dr. Wendy Erb, also collaborate on long-term orangutan research at the Tuanan Orangutan Research Station (TORS), where researchers have been collecting data on the wild orangutan population since 2003.
Since 2011, the directors of TORS have been offering a dynamic environmental education program in local elementary schools to build awareness of conservation issues. This program has improved the general education of local children, as well as their knowledge about and appreciation for the forests surrounding their communities. In addition to classroom instruction in three schools, CORE offers a number of hands-on activities in the communities and forest. In 2014, we developed a "forest school" in which small groups of students and teachers visit TORS for first-hand experience in forest ecology and orangutan behavior. By engaging local communities via education, CORE aims to increase awareness of the threats to orangutans and other biodiversity in the Mawas Reserve peatlands and support for their conservation.
In 2015, CORE initiated an adult educational program offered as a series of workshops in seven communities. These workshops are focused on topics linking human welfare with environmental practices. Deforestation and pollution threaten biodiversity, watershed integrity, soil productivity, and climate, which in turn negatively impact human health and livelihoods. Our workshops cover special topics, including wildlife conservation, clean water, and waste management. CORE's unique approach utilizes an interactive and hands-on format that integrates local staff from TORS as lecturers and activity leaders to increase the interest and engagement of community members.
*Donations made from this button will be allocated to CORE Borneo
Click on thumbnails to see large images.
---
How will your contribution help the CORE team?
$10 covers the t-shirt for one child participating in the "forest school" at Tuanan
$15 covers the honorarium for a local research team member to lead a presentation or demonstration during one community workshop
$25 covers the round-trip transportation for the education team for one community workshop
$50 covers 10 local children to participate in the "forest school" at Tuanan
$100 covers environmental education teaching materials for 3 months for one elementary school OR one set of quarterly newsletters for distribution in local communities
$150 covers the honorarium for an invited guest lecture to present educational material for a series of workshops in 7 communities OR food and drinks for one community workshop
$250 covers one month of salary for one of our environmental educators OR educational materials and supplies for one community workshop
$500 covers one year of meetings and presentations with local governments and communities
$1000 covers one year of transportation for the environmental education team to teach in 3 local elementary schools
$2000 covers one year of travel for a coordinator for the environmental education program
$2500 covers one year of transportation for the education team to travel between Tuanan and Palangkaraya
$4000 covers 12 months of accommodation for the education team at the Tuanan Orangutan Research Station OR an environmental education training workshop for local teachers in Central Kalimantan
The priority at the moment is operational costs for the education team. Funds are also needed for a training workshop to implement the environmental education curriculum throughout the Kapuas District.
Please make a donation to CORE Borneo today!
*Donations made from this button will be allocated to CORE Borneo