Meryl Graduates from Forest School!
ANNOUNCING OUR NEWEST FOREST SCHOOL GRADUATE!
WISHING ALL THE BEST TO SWEET MERYL!
January 2022 — Another beloved orangutan from the Orangutan Outreach adoption program has graduated from Forest School and moved on to the final stage of rehabilitation! We are so proud of Meryl!
We are grateful to all our supporters who have adopted Meryl over the years. She joined our adoption program in 2016 and has had so many supporters over the years! It is thanks to generous supporters like YOU that the BOS Foundation has been able to care for Meryl — and hundreds of other orphaned and displaced orangutans — as they went through their many years in Forest School...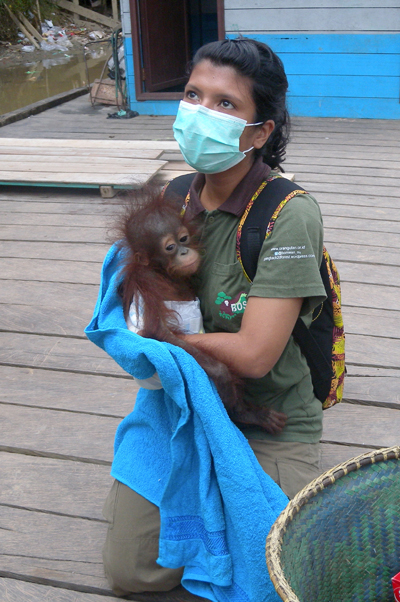 If you're currently an adoptive parent to Meryl, we'll be reaching out to you in coming days to see who you'd like to adopt in her place. There are many amazing orangutans to choose from! If you already know who you'd like to adopt, feel free to send us a note and we'll set it up for you. You can meet all the adoption candidates on our adoption page. The newest orangutan to join the program is a wonderful little fellow named Monyo.
Meryl's Story
Early morning on January 7 2015, a team from BOS Nyaru Menteng travelled to Tumbang Jiga Village after receiving news of a baby orangutan being kept by local people. Tumbang Jiga Village is located deep in a remote area of Katingan Regency, many hours drive from the BOS center over bumpy dirt roads.
The baby was found in a very poor condition. She was extremely weak and thin. The owner had placed her in a lanjung, a traditional Dayak bag made of plaited rattan, usually used for carrying crops or firewood. The baby, a female, could barely move inside the bag and was unable to move her right arm because it was so swollen.
Dr. Meryl Yemima, one of the lead veterinarians from Nyaru Menteng, gently lifted the baby out of the bag, covered her with a warm blanket, and cradled her. The team successfully confiscated the baby and rusher her back to the clinic facility at Nyaru Menteng for emergency treatment. During the return trip which took around 8 hours, the baby orangutan occasionally let out sobbing sounds from the safety of vet Meryl's arms.
An initial examination by vet Meryl showed that the baby was only around 8 months old, yet she had spent the last 6 months in captivity. She was named Meryl, after her new vet who had lovingly taken care of her from the day she was rescued.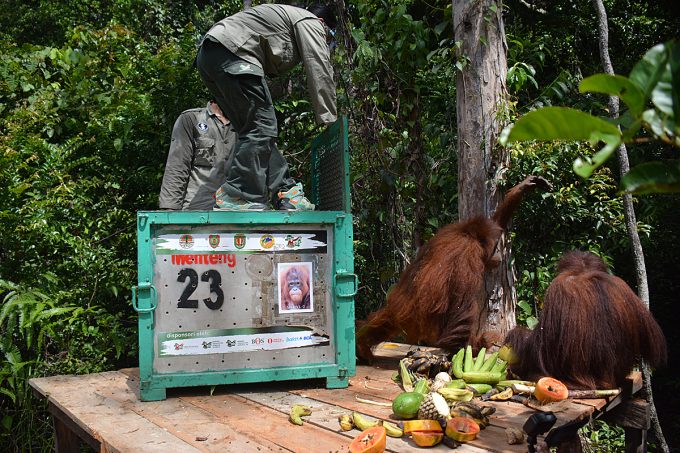 Meryl's Release
Meryl, along with Beni, Liti, Sura and a few other friends from Forest School moved on to the final stage of their rehabilitation!
They now have the opportunity to experience a whole new side of life in the forest as they refine their skills and continue their education – preparing them for the eventual release into their true wild home in the Bornean rainforest.
Orangutans in Borneo Need Your Help!
Prefer to donate crypto?