Orangutan Photo of the Year!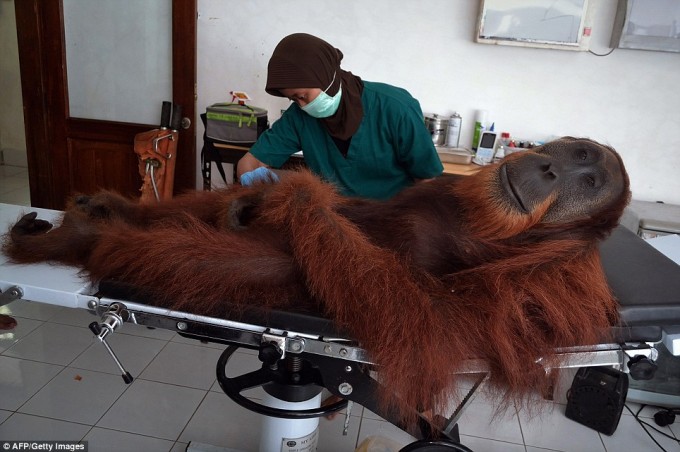 Veterinary staff of the Sumatran Orangutan Conservation Programme (SOCP) perform medical checks on the newest arrival at the SOCP quarantine centre near Medan, Sumatra. The large male orangutan, named Angelo, is around 14 years old and was evacuated from an isolated forest patch in the Batang Sarangan region of Langkat, North Sumatra on Tuesday 15th April by a team comprising staff of the Ministry of Forestry's Conservation Agency and Orangutan Information Centre (OIC). If he had not been rescued he would not have survived in such an isolated forest patch and was already in conflict with local farmers. In fact, on x-ray examination the team found several air rifle pellets in his body, showing clearly that villagers had already been shooting at him.
The SOCP works with the Ministry of Forestry's conservation agency to confiscate illegal pet orangutans and occasionally must also rescue and relocate wild orangutans trapped in isolated forest fragments. To date the centre has cared for over 280 orangutans, over 200 of which have already been returned to the wild at two specialist SOCP orangutan reintroduction centers. At present there are about 50 orangutans at the centre being prepared for release and 4 will shortly be transferred to Jambi for reintroduction. Angelo will also be released once he has passed a mandatory 30 day quarantine period and is shown to be fit and well.