Lone Dröscher Nielsen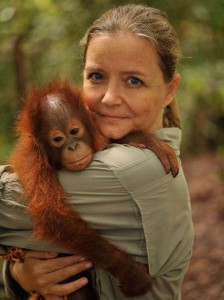 Lone Dröscher Nielsen founded BOS Nyaru Menteng, the world's largest orangutan rehabilitation center in 1999. Her work to save and rehabilitate Borneo's red apes has been featured on the BBC's Orangutan Diaries and Animal Planet's Orangutan Island.
In 1996, Lone Dröscher Nielsen made an unusual decision when she quit her job, said goodbye to family and friends and left her home in Northern Jutland in Denmark to travel to a new continent. Her goal was to establish a rehabilitation center for those orangutans who had lost their mother and home in the rainforest of the central Borneo. Today, Nyaru Menteng is the biggest rehabilitation center in the world with more than 600 orangutans.
Fell in love with the rainforest
The basis of Lone Dröscher Nielsen's decision started when she worked as a volunteer for the Primatologist Birute Galdikas in the beginning of the 90s. Here Lone fell in love with the rainforest and later the orangutans. Professor Galdikas was running a smaller rehabilitation center, and Lone took care of the young distressed orangutan orphans whose home was destroyed from deforestation.
The voice of the orangutans
"The first time I looked into the eyes of a motherless young orangutan, I noticed the complete lack of zest for life. At the same time, I witnessed a massive destruction of the rainforest which made the orangutans extremely vulnerable to humans. I decided that I should be the voice of the orangutans and fight for them in a world where they apparently seem to be forgotten." Lone says.
A mother of one thousand
During the 1990s, Lone spent all her money and all her holidays to save the orangutans in Borneo. When the decision was made she left her job as an air hostess at the airline SAS and moved permanently to Borneo. In 1999 she managed to establish her own rehabilitation center, Nyaru Menteng, in Central Kalimantan (Indonesian Borneo). Since then, the center has taken care of orangutans who suffer from the increasing deforestation due to the expansion of palm oil plantations. Lone has been like a mother to more than a thousand orangutans.
A bittersweet success
With its 200 local staff members and cooperation with local suppliers, Nyaru Menteng is the biggest workplace in the area. More than 600 orangutans need to be fed, nursed, stimulated through play and inspected by vets. It is a fact that the center has grown extremely fast, which makes Lone Dröscher Nielsen more sad than proud. "All the orangutans who live here in the center are lucky because we found them before it was too late and they still have a future ahead of them. But we still have to get to the root of the problem and stop the clearing of the rainforest, as it makes the orangutans vulnerable to people. Best-case scenario would be if there was no need for Nyaru Menteng to exist."
Anthropoid apes with human babysitters
Orangutans and humans share 97% of their DNA, and like human babies, young orangutans can die of grief if they are not stroked and nursed. In the wild they stay with their mothers for up to six to eight years. At the center, the babysitters are local women who teach the orangutans everything their mother is supposed to do in nature: how to climb trees, find food, to recognize danger and build a nest. They also learn valuable life skills from each other.
Forest School
The small orangutans go to school in the woods in classes according to age and skills. When they are ready, they are relocated to one of the five protected islands where they live a semi-wild life and learn how to survive on their own. "When I started my work with the orangutans I used my intuition which made me realize that orangutans are exactly like children. They become stronger and more independent the more love they receive early in life," Lone says about her methods at the rehabilitation center.
New destination, new chapter
Living in Borneo has not been without sacrifices, and after 15 years in the rainforest Lone has, for health reasons, decided to move back to Europe. However, her ambition of being the voice of the orangutans is still intact. Today, her work of saving the orangutans is done via her base in England, where she also functions as a consultant for Nyaru Menteng.
The release of the first rehabilitants
In November 2012, Lone Dröscher Nielsen came closer to fulfilling her dream when the first eight orangutans were ready to be released into an area of the rain forest they had preserved. "This has been my great exam," Lone says, referring to the release of her first eight forest school students. "So far they manage on their own much better than we expected— in their original surroundings where they belong. Seeing an animal freed touches something so deep inside."
More than 130 orangutans from Nyaru Menteng have now been released. Learn more about the release program.
The continued success of the BOS Nyaru Menteng Orangutan Release Program depends on support from donors like YOU! Please make a donation today!