International Orangutan Day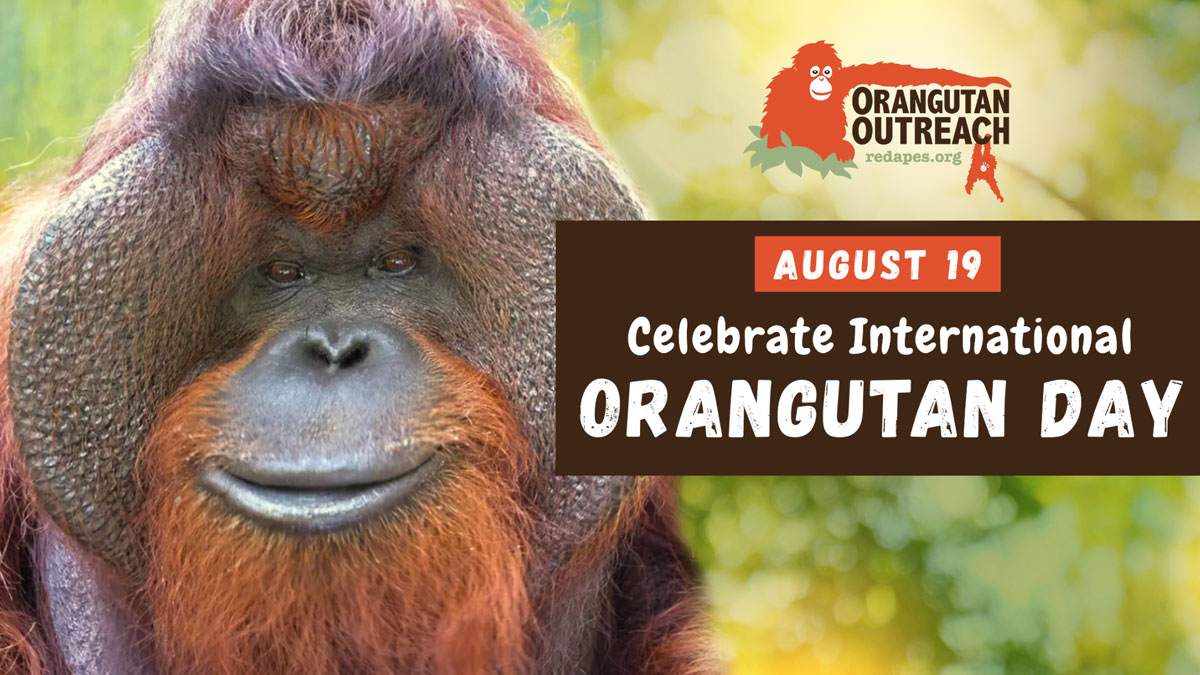 This year's International Orangutan Day banner was designed by Alina Bachmann. It features Waru, a handsome cheekpadder who is being cared for at BOS Nyaru Menteng, the largest orangutan rescue center in the world. Waru is unreleasable and will need sanctuary care for the rest of his life.
International Orangutan Day — August 19th — Every Year!
International Orangutan Day is the perfect day to show your love and support for orangutans. This very special day is meant to inspire people everywhere to take action to protect orangutans in the wild and care for orphaned and displaced orangutans being looked after at rescue centers in Borneo and Sumatra. For International Orangutan Day 2023, Orangutan Outreach is focusing on an often forgotten group – the "Unreleasable" orangutans. Click here to learn more about unreleasable orangutans!
Unreleasable Orangutans
The aim of the orangutan rehabilitation process is to teach orangutans vital survival skills, and the goal is for every orangutan to return to the wild. The sad reality, however, is that there are hundreds of orangutans in rehabilitation centers who will never be able to live successfully in the wild due to illness, disability, or physical limitations. We refer to these orangutans as "unreleasable" and we strive to provide them with a life of respect and dignity under human care. Right now, most unreleasable orangutans live in cages at our partners' rehabilitation centers, because there is nowhere else for them to go. We are committed to moving every unreleasable orangutan out of their cage and into a forested sanctuary space or island. But in order to achieve this, we need your help!
YOU Can Help!
The biggest challenge in providing sanctuary space for unreleasable orangutans is securing the funds required. Donations are desperately needed to cover the costs for decades of food and medication and the expenses associated with building new, appropriate sanctuary enclosures and islands. Providing lifelong care requires more funding than what is needed to put an orangutan through the rehabilitation process. We need your financial support. In honor of International Orangutan Day 2023 PLEASE HELP US BUILD CAGE FREE SANCTUARY SPACE! Donations of every size are welcome and appreciated!
MORE WAYS TO OBSERVE INTERNATIONAL ORANGUTAN DAY
Learn about orangutans
You can celebrate International Orangutan Day by learning everything there is to know about orangutans, including their habitat, behavior, lifespan, and more. Learn more on our FAQs page.
Donate to help protect orangutans!
If you care about orangutans, you'll want to do everything you can to ensure their survival. A donation can go a long way toward making this possible. You can help keep orangutans thriving by generously supporting their care. Orangutan Outreach offers many easy ways to make a donation.
Adopt an orangutan online!
Learn more and select your adoptee on our adoption page! There are several unreleasable orangutans, including 3 males— Papa, JoJo and Krismon — and 2 females—Pingky and Neng.
Create awareness online
Share your ideas and the information you've gathered with your friends, family, and coworkers. You can even start an online fundraiser to raise funds to protect orangutans. The most important thing any of us can do is raise public awareness about the problems that arise from deforestation. An easy action is to share posts from the Orangutan Outreach Facebook Page.