Jumbo and Cinta Graduate from Forest School!
Announcing our Newest Forest School Graduates!
Wishing all the best to Jumbo and Cinta!
May 2021 — Two of the most beloved orangutans from the Orangutan Outreach adoption program have graduated from forest school and moved on to the final stage of their rehabilitation!
We are grateful to all our supporters who have adopted Jumbo and Cinta over the years. They joined our adoption program back in 2013 and have had literally hundreds of supporters over the years! It is thanks to generous supporters like YOU that the BOS Foundation has been able to care for Jumbo and Cinta— and hundreds of other orphaned and displaced orangutans— as they went through their many years in Forest School....
If you're currently an adoptive parent to Jumbo and/or Cinta, we'll be reaching out to you in coming days to see who you'd like to adopt in their place. There are many amazing orangutans to choose from... and several more will be joining the adoption program soon! If you already know who you'd like to adopt, feel free to send us a note and we'll set it up for you.
On April 7, Jumbo and Cinta (along with their Orangutan Jungle School buddies, Hanin and Valentino) where transported from the BOSF Nyaru Menteng rehabilitation center to Badak Besar Island in the Salat Island Cluster.
They have officially entered the pre-release stage of their journey! They will now perfect their forest skills while still being monitored and supported by the BOSF team. Then it will off to freedom in the forest!
Cinta was rescued on February 14, 2013, in Tumbang Jalemu village. She was around 5 months old at the time and weighed 2 kgs. Special guest and former president of Indonesia, Megawati Soekarnoputri, was visiting Nyaru Menteng at the time and gave her the name Cinta, which means 'love' in Indonesian. We certainly have a huge amount of love to give Cinta, the girl who was rescued on Valentines Day.
Jumbo was sadly separated from his mother after hunting dogs scared her away in the forest. The trauma of losing his mother at such a young age is still evident, and Jumbo often wrapped his arms around his body and hugs himself when he is surprised or scared.
A total of eight orang-utans were transported to the pre-release islands in April. This move was extra complicated due to the need for the BOSF medical team to wear full PPE. Some of the orangutans reacted with raised hair and kiss-squeaks directed at the team to show their displeasure. However, the use of complete PPE is in accordance with strict health protocols introduced to help curb the spread of COVID-19. All staff members and orangutans involved in the transfer were given a swab test to ensure that they were not carrying COVID-19.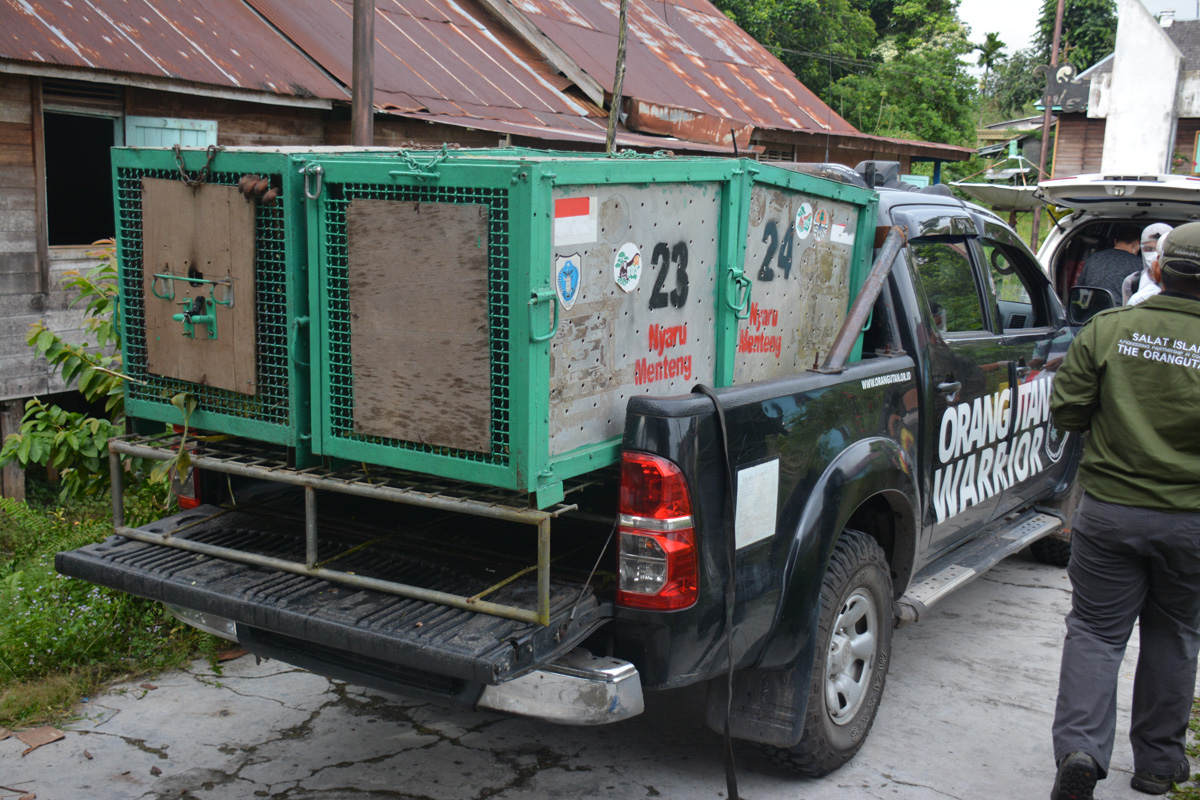 The orangutan transfer team departed for the island via waterway, using a speedboat. The river journey took about four hours, from the Sei Gohong pier on the Rungan River, to the Kahayan River, and all the way to Badak Besar Island. This river route was used to avoid any unnecessary interactions with local residents, whom are often encountered when travelling in cars.
The groups arrived at Badak Besar Island at around noon. The orangutans each had different reactions upon being released to the forest. Valentino looked confused when his cage was opened, after spending several months in an individual enclosure with completely different conditions to that of his new home on the pre-release island.
Jumbo, however, shot out of his cage and snatched some bananas, completely ignoring the team. When Cinta left her cage, she tried to approach members of the team; but luckily, another orangutan who was already sitting high up in a tree, eating forest food, caught her attention.
We know you share our excitement for Jumbo and Cinta! Thank you again to all of Jumbo and Cinta's adoptive parents who have supported their journey for so many years!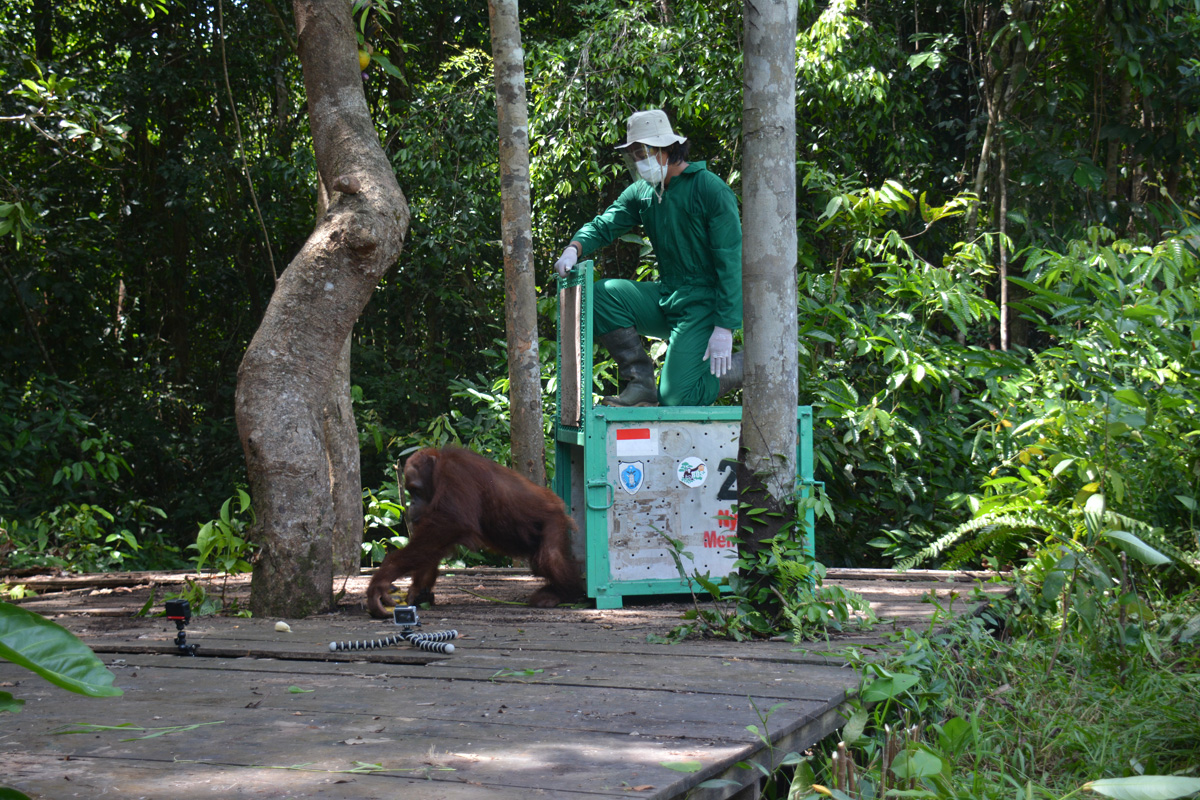 Jumbo exits his transport crate....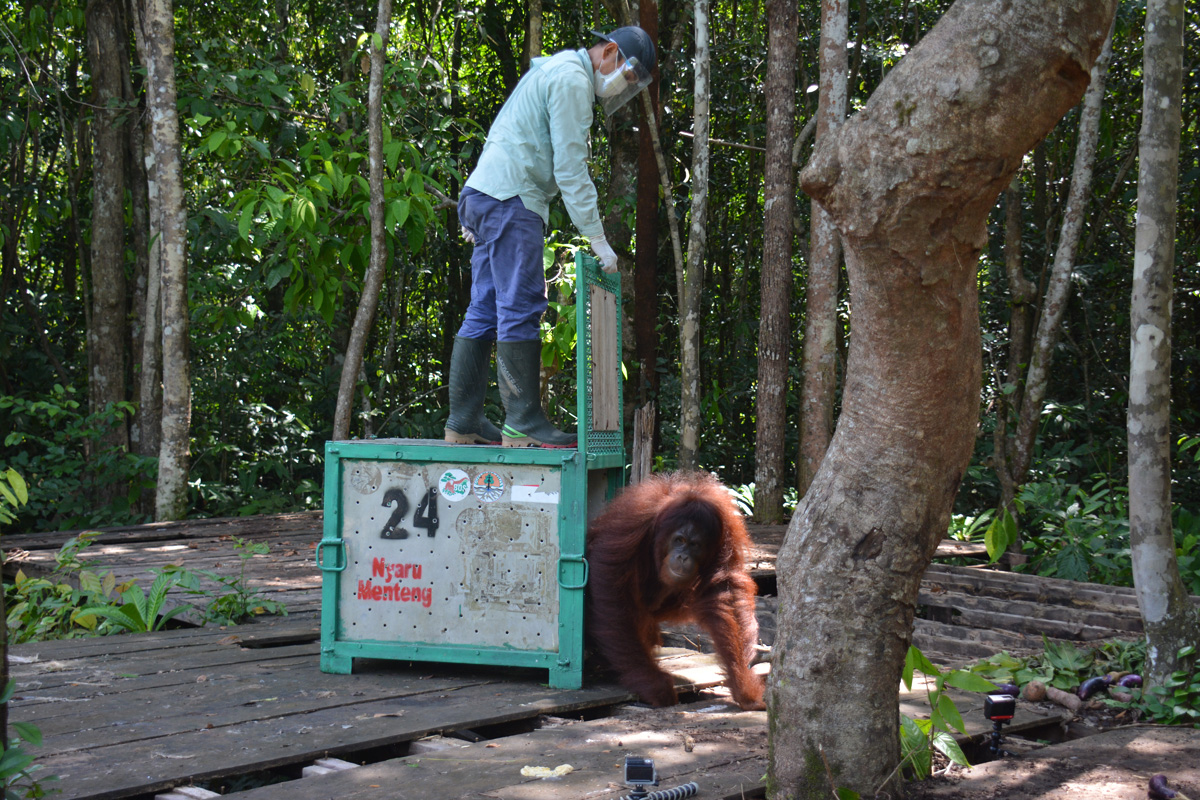 Cinta exits her transport crate....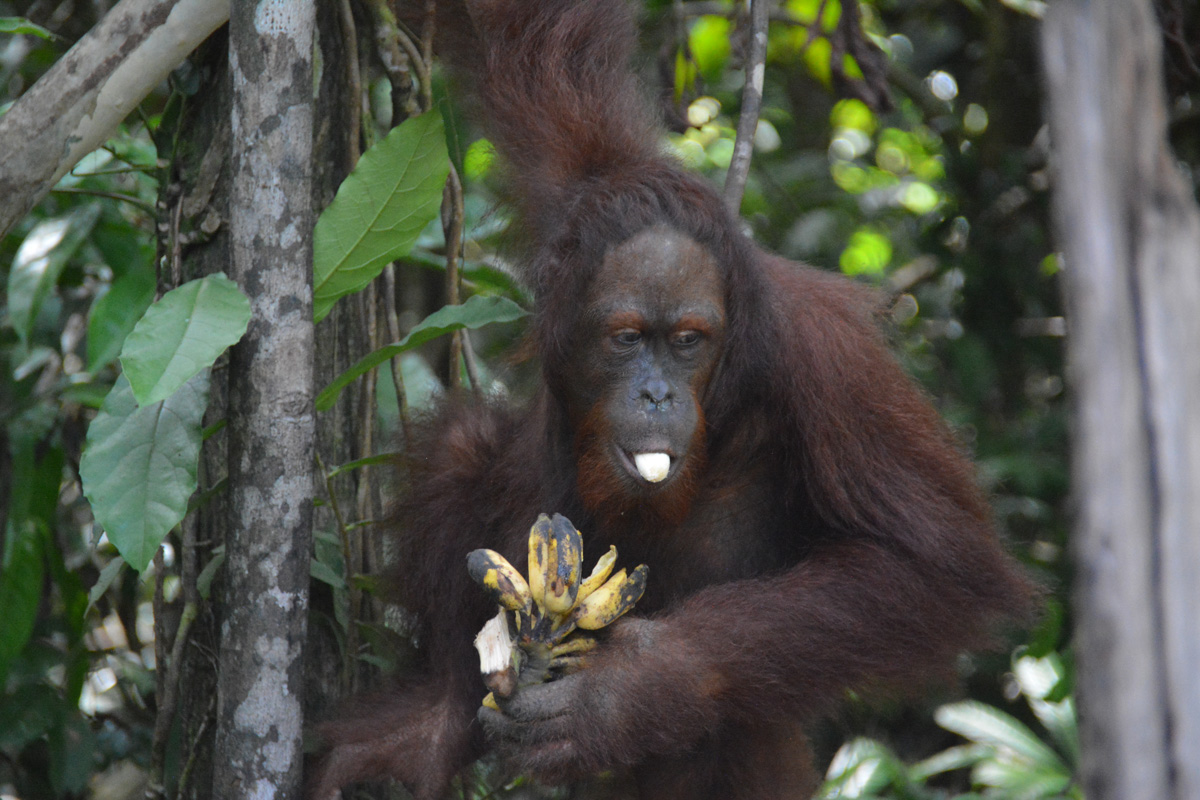 Jumbo wasted no time gathering up some bananas...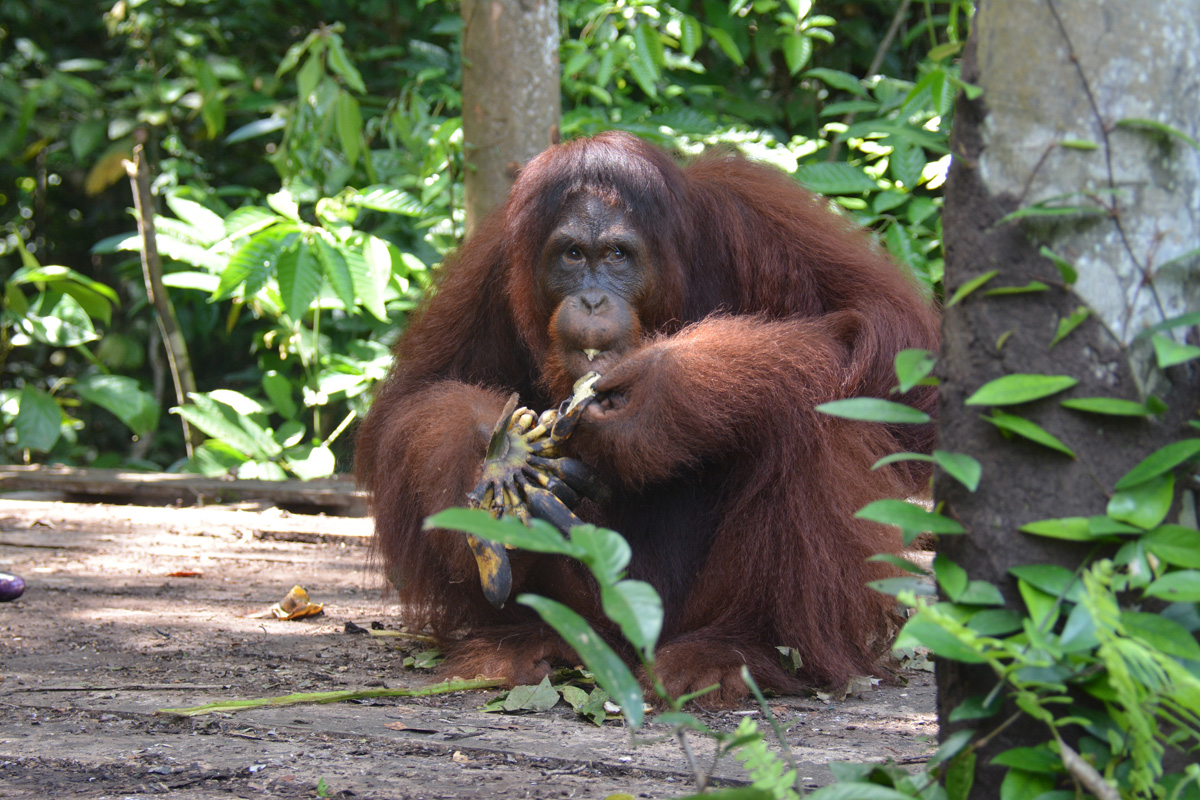 Cinta was very curious about her new surroundings.
Memories and well wishes from Jumbo's caregivers, Ibu Haniati and Ibu Mariana:
Jumbo, when he was small, was a bit of a demanding individual, especially with the surrogate mothers who he liked and would stick to like glue. He would cry when we put him down and do something else. After he grew up and got bigger, Jumbo started to get cheeky. He would climb on the surrogate mothers and throw twigs at the others, or he would pull down our woven baskets from behind while we were walking.
When Jumbo is returned to a forest habitat, I hope he can grow more independent, be able to adjust to his new, lush environment, and is able to forage independently. He will need to not be dependent on the food given by humans anymore. I hope that someday Jumbo can become a truly wild orangutan.
This is the story of my experience on Jumbo's last in Forest School. We were walking for the final time to the Forest School, and Jumbo was walking behind me when he suddenly pulled my bag from the back. I slipped on the boardwalk and my head even hit the ground. While it hurt quite a bit, it was not serious. I felt annoyed, but I remembered that I have known Jumbo since he was an infant and this just showed it was time for him to finally live as an orangutan, away from humans.
Jumbo is very clever, but also cheeky. It is not that he is naughty, but rather fond of small pranks. Just like many others, he will occasionally irritate his peers and caregivers. He will do small things like blocking your way or tackling your legs. I hope that one day he can be released back into the forest where he will be self-reliant and not dependent on humans.
Memories and well wishes from Cinta's caregiver, Ibu Sri:
The good thing is, Cinta is quite independent. She does not have many close friends, but she likes to climb high, explore, and move through the trees. When she sees a threat from a predator, she does not back down. She would reach for a stick to smack the predator.
Cinta looks very cute when she plays with water. I have seen her building a nest on the ground by collecting twigs around her and forming them into a fort-like shape to protect herself.
She should have built it in the treetops, but this was just one time when she was seen actively making it on the ground.
I hope that when Cinta is transferred to the island, she can be more adventurous, explorative, and independent, so that she can get to know her new environment. But it is also a bittersweet moment for me, when I see an orangutan that I used to take care finally be released in a forest.
But that is exactly my duty as a surrogate mother for orangutans like Cinta.
At first, she will probably find it a bit odd being in a new environment, but I am confident that, going forward, Cinta will grow more independent and adjust to her life in a new environment.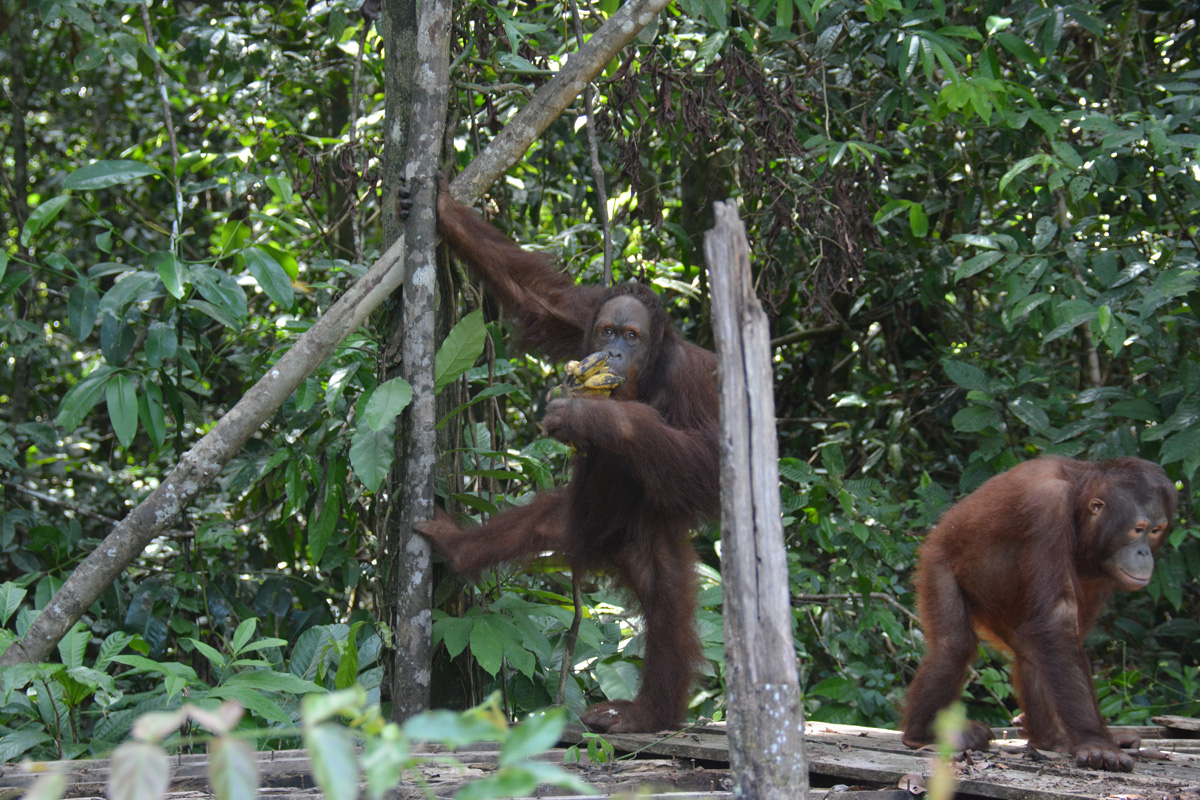 Jumbo and Valentino hanging out on a feeding platform.
Orangutans in Borneo Need Your Help!